Tuesday, September 30, 2008
Potter's hand
short-talk:



"Take care of your 5%, and the 95% will be taken care" .


-----------------------------------------------------
Frankly, whenever i reckon back on how our group,
GeoLaLa
actually did the impossible drilling, i couldn't help, but
laugh
really salute our group's instantaneous creativity.


You surely know what am i trying to hint right? =P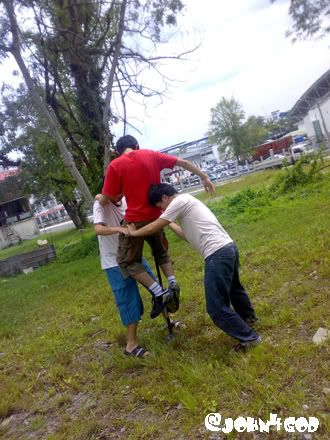 Brotherly-love.
LOL!
So, after the tedious and exhausting fieldwork plus the indecent act in the public, we then brought our several packets of disturbed soils to the laboratory for the further completion.

Get ready to read our interesting procedure.

The dirty soil that we had gathered were taken out from the plastic bag and placed on the weight machine to measure of the required weight. By just looking at those chunk of soil, i believe most of you is thinking of what i'm thinking right now.
Faeces
yea?
So after the measurement, each sample was placed properly into the
not-so-big
oven and ready to be scorched in high temperature.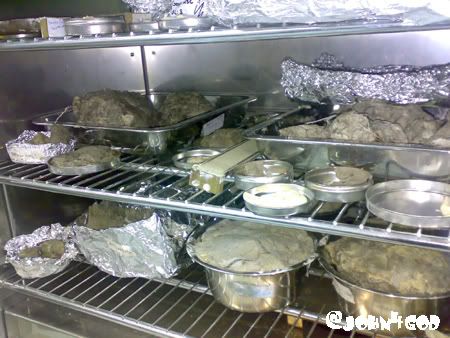 Yea, i know it looks like we are baking cakes in Taka Bakery now. Sounds interesting yea. Apparently we are not, we are actually baking disgusting mud. In another word,
faeces.
*puke*
After 24 hours of baking, the moisture contained in the soil was desiccated completely. And we took out the dry
pooh pooh
, placed it on the aluminum plate and crushed it into powdery particles.
The power of 2 hammers plus one hander.
Soon, when we have finished smashing those
pooh pooh
into fine-grained bits, we then washed the
pooh pooh
with our hands. Hands!!!
Those fine sand had actually became more viscous when it was intermixed with water. It's so sticky and yucky that it glued tightly on your fingers and seemed even more like human's
pooh pooh
. **that's Aldrin's hand** =P
After washing, we remeasured the weight again and then placed every sample into the oven and ready to bake for the second time.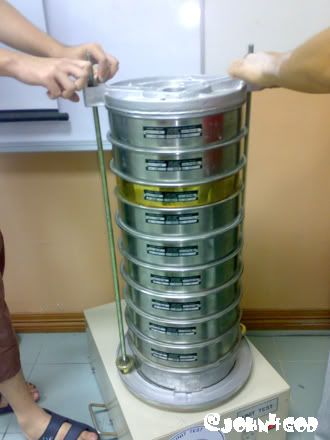 Sieving process .
It's not the end yet. More to come. We sieved each soil and then measured the weight of the fine particles.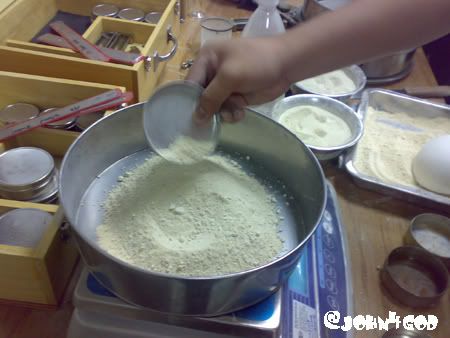 Now, it looks more like a bakery. Civil engineering students' doing cookies with soil? Weird. Perhaps, Swinburne is indirectly using this subject,
Geomechanics
to train all Civil Engineering students in learning to bake and make cookies which is actually beneficial for our future. Hmm....
Nonetheless, in order not to waste the remaining soil, my group leader and I maximized some portion of the clay and moulded it into some gubbins.

"Bodyguard".
That's my group leader's masterpiece. Looks muscular and cool yea! And now let me show you my statue.

#tada#
Teddymon.
Don't laugh. *piak* I'm just being a little
childish
creative as a spontaneous potter by utilizing my both hands to mould a presentable creature. Then i placed my
Teddymon
into the hot oven to bake and hoping to see a better result on the next day.
Spa.
I know my
Teddymon
is cute. Don't deny the truth eh. LOL.
Teddymon
is chubby, innocent and precious to me.
As fast as i could, i flew together with my
Teddymon
to the library and had the intention to swank my masterpiece to my friends.
I did. My friends were impressed. I was proud of it. But ... after 10 minutes ....
R.I.P
My
Teddymon
was not resting in peace, instead it was resting in
Pieces.
And now, it was my turn that my heart was shattered into fine-grained bits.
*yell*
Comments:
Teddymon is very cute. No doubt. Does it reflects Johnson's 'cuteness'??? I wonder...
But I wonder what is people's reaction when they open the oven and suddenly saw a Teddymon in the oven... Hahaha.
By

pmp, at Tuesday, September 30, 2008 at 11:26:00 PM GMT+8

----------------------------------------------------------

pmp: maybe it reflects my true cuteness.. haha... i asked one of my friends what was his reaction when saw that teddymon, he said "huh..got teddymon meh??".... =__="

By

Johnson, at Wednesday, October 1, 2008 at 9:49:00 AM GMT+8

----------------------------------------------------------

eeeee

teddy mon is made out of some bits of dog poo poo.. you never know right? haha..

teddymon..

RIP

By

kacwey, at Wednesday, October 1, 2008 at 2:35:00 PM GMT+8

----------------------------------------------------------

keith: lol...maybe it's dog's or maybe it's human's.... arrr..... TIDAK!! =P

By

Johnson, at Wednesday, October 1, 2008 at 3:59:00 PM GMT+8

----------------------------------------------------------

wah hahahaha...
at first u ppl sound like professional engineering but after that...juz like a kid playing sand or clay hahaha...

That teddymon is cute but u are not sute :P u wan cute??? :)

i am not purposely kill or destroy ur group teddymom...:P i really don't know to explain ur teddymom lo...but after that i got draw back her hands and hair...hahaha

is really funny when the teddymom destroyed haha...next time don't show ur precious things to me if not later destroy again...:)

Selamat hari Raya...

By

Tiong yienG, at Wednesday, October 1, 2008 at 8:57:00 PM GMT+8

----------------------------------------------------------

tiong yieng: haha... then should ask u to remake the teddymon for me.. haha!!! itchy hand..**piak piak**

By

Johnson, at Thursday, October 2, 2008 at 12:01:00 AM GMT+8

----------------------------------------------------------

damn funny! hahahha this reli reminds me of my f6 ecology project (whr drey teo has videos of herself shaking the soil in the 5 layer tin thing 2 sieve the soil together w a cartoon soundtrack wahahah) minus the part whr u immerse ur hand into the feaces + water mixture. hahahha.. btw i din tink it looked like a teddymon. looks like you whn u're acting silly. muahahahhaa.

By

Xu Vin, at Saturday, October 4, 2008 at 12:32:00 AM GMT+8

----------------------------------------------------------

xu vin: lol...thanks for the wonderful "compliment"... *piak* perhaps you should give urself an encounter to immerse ur hand into those pooh pooh... lol... hey, i think the teddymon looks more like Xin Ming.. lol!! sshh... don't tell him..=P

By

Johnson, at Saturday, October 4, 2008 at 2:53:00 PM GMT+8

----------------------------------------------------------