Monday, August 18, 2008
Bako reviews --Part 1--
short-talk:


And so it is true, Negaraku has never been played publicly in any Olympic... will never?
As mentioned earlier on, i have never
heard
of Bako until 2 years ago. Now and then, people keep talking about Bako. How nice Bako is. How worth it to get yourself to visit Bako. I envy though.
And the day that i have been yearning for has come to past. Last Sunday.
Knowing for sure that this day will surely be filled with tremendous fun and great adventures, i forced myself to wake up before the sun reached above the horizon and get myself ready. Grabbed my kit, did some stretching and drove my snoozing Myvi to Xiang Xiang Cafe and gathered.
It only took around 40 minutes drive from Kuching to Kampung Bako.
an island
. So, we need to reach Kampung Bako first, then take a 30 minutes boat ride to Bako island.
human
overslept. =.=" pig.
Anyhow, wondering why am I standing in front of so many people? Cos' I was none other than the sanguine
Camp Commander.
Kampung Bako is really a humble and calm living place as seen. Most of the villagers who live here depend very much on their daily catch and transportation of tourists to Bako Park.
After the settlement of ticket, we quickly rushed ourselves to the jetty and hop on the boat before the alternate sea tide reached low level.
There are a few possible reasons why it's compulsory to wear the
orange
safety jacket. First, to keep us safe in case we drown. Secondly, most probably is because that the boat is
not
in an accountable and utter secure set-up. High possibility of shipwreck. True?
Nonetheless, i did not wear any safety jacket owing to the fact that i have little knowledge of kicking and swimming. At least i know how to float, unlike ...... **wink**
Something funny happened. As we were enjoying the magnificent views, out of the sudden, I heard no sound of the engine's working. At once, I came to a realization that our boat's actually die down!

Yes! I know it sounds rather jokey and bizarre, but
who could have envisioned for such incidence to happen to me. Worst to say, I was in the last boat while others had reached
Bako
Park
. The
Camp
Commander
stuck in the middle of the sea! *yell*
And this was absolutely not what i'm anticipating for. I have not even reached Bako Park and my boat died in the middle of no way??!!
Conceivably, to be more encouraging, I purposely took this unexpected occurrence as a planned happening by the
inexperienced
uncle to grant us more time to enjoy the view. Hmm…
Correct me if i'm wrong. If you notice the mountain slightly longer, it actually looks like a pregnant lady lying down horizontally right?
See it?
After the unwanted sunbathe, the uncle finally managed to regenerate the engine and we continued our voyage.
A couple more minutes later, we finally managed to see the pier.
And so, we were welcomed with some applauses by these
Homo sapiens.

,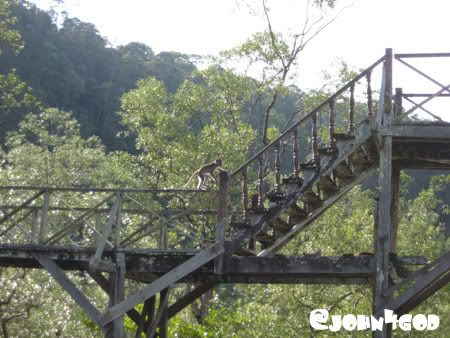 Monyet..
And to be frank, these monkeys were not friendly and tame at all! They went super aggressive and confrontational when they encountered we, homo sapiens. When i reached the jetty and saw those monkeys starring at me, i as the Camp Commander tried so hard to hide my fear and showed my boldness in front of the people, still, i failed... i quickly ran towards crowds and concealed myself.
Comments:
You know what? if you move futher inside Kampung Bako, that will lead you to a hill. SKJ Chung Hua Bako is on the middle of the hill. I worked there for 6 months.. haha!
By

Ezekiel, at Tuesday, August 19, 2008 at 12:04:00 AM GMT+8

----------------------------------------------------------

ezekiel: is it??...wah, i should visit that school some day.

By

Johnson, at Tuesday, August 19, 2008 at 9:51:00 PM GMT+8

----------------------------------------------------------

That's my dad's school....a sister from Chinese church has taught there b4 as well. :D Now I wana go Bako National Park also..see can arrange or not...hehe...

By

Mr. W, at Thursday, August 21, 2008 at 2:04:00 PM GMT+8

----------------------------------------------------------