Tuesday, February 19, 2008
The Leaving
short-talk:



Do you know the recent news where a guy and a girl got killed in a fatal car accident at Jalan Satok? The guy was a Swinburne's student, and if i am not mistaken, the girl was only 18 years old. She's my colleague's ex. Pretty sad to hear it.


Worst to say, their belongings were stolen by some sickening people. Goshh... such a bunch of heartless and cruel people. Didn't even lend a hand to help the victims yet steal all of the belongings and fled.


Condolence to the victim's families. Another young souls depart this world. It's really a grieving incident to hear. Life is unpredictable. Still, God's in control of all. What's in the past, we have already gone through; what's in the future, we are yet to encounter. But what is in the present, we can choose either to dissipate it unwisely or cherish it to the fullest.


"Only one life to live ... "
Drive safe too.
-----------------------------------------------
My elder brother is leaving to Tasmania to further his architectural bachelor. Even though my dad has always been traveling to many international countries, but still there's a difference when brother is leaving. Truthfully, i will be missing his presence and i am now starting to miss his companionship already. Sad emo.
Of cause, there is always an adieu before each leaving. The night before bro's departure, my whole family went to Fish Market. Couldn't say much but i'm obliged for this gathering. We seldom get a chance to eat as one due to dad's busyness in traveling and also of my recent part time work. Nevertheless, i sacrificed my whole day of not working and just stay at home and accompany my bro. Family always comes first.
Do you know that the business in Fish Market at KL is not that progressing compared to the one in Kuching now? Perhaps we, Kuchingnites, are just so engrossed in conquering fishes... **swim swim**
Just another soup of the day, yet it's so pricey. **cut throat**

Garlic bread

Savoury Rice

And my favourite dish,
Fish and Chips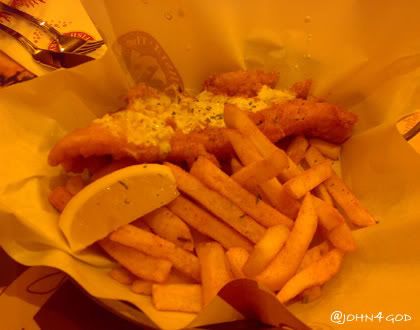 The outer layer is crispy and the inner meat is so succulent. With these proper mingling, the fish tests absolutely perfect. **thumbs up**Gosh.. addicted to it now.
##Family meal.##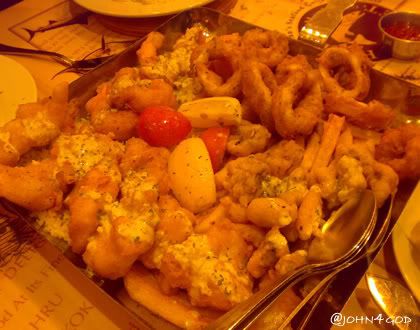 There's fried fish fillet, chips, prawns, squids and etc. Let's call it "
The Rojak
" instead.
Try it!
at least it's more worth compared to eating at Kenny Rogers
Anyway, we did enjoy the joy of being together. Couldn't expect much, but the glee of gathering as one family is just indescribable.
I'm grateful.
~*~*~*~*~*~*~*~*~*~*~*~*~*~*~*~*~*~*~*~*~*~*~*~

Airport ohh airport.
There's always two feelings when you are in a airport. Either you are in zeal of welcoming back your long time buddy and family members or it's a moment where you will need to say goodbye and safety journey to a person. Agree?
Everyone jam packed the place.

Excitedly going for vacations, i guess.

Amazingly, i happened to chance upon my secondary school's peers. Cool. But didn't talk much though. No topic to talk ma..
Sent my brother off then. Bro carried a 30-40 plus plus kg luggages with him. Hopefully the officers won't charge bro for the extra luggages' weight. It's expensive if they charge. I mean, really
expensive
!
Bro is now enjoying his fruitful journey to Tasmania. Has already landed at Melbourne today. Will transit from Melbourne's airport to Tasmania soon. Wah, envy envy. Bro definitely is delighting in his first Aussie's vacation to Melbourne. I want to go!! Take more snapshots please ...
Notwithstanding, bro is going for a good cause of cause. **cheers Johnson**
To be honest, there's a different tone and atmosphere in my home now. Missing bro's voice and companionship. Now, there's no physical guidance from bro. I got to take up the
big brother
's responsibility to take care and guide my younger bro.
I admit that i'm not that kind of person that will often buy things for my family's member. But I changed! Realizing the valuable signification of giving gifts, i have decided to purchase something for my bro.
Went to Mph. Thinking of buying some spiritual books. Consider consider and consider. Searched for almost an hour and still couldn't find an appropriate book. Unintentionally, i stumbled upon this calender book on the shelf. It's not just another ordinary calender though, but it's a
perpetual
calender. Yahoo... evvvvvvvveeeeeeeerrrrrrrrlasting calender indeed!!!
365 days of inspiration for a healthier you
. What a seasonable gift to purchase! Thank God! Hopefully bro will refer to the calender daily. And of cause, remember me. Wuahaha..
Mum is waiting and still waiting earnestly for bro's call back. So do I.
May God bless and guides him. Till then, take care! =)
Comments:
Haha! I'm the first to comment! It's kinda sad when family members are leaving for studies or work. Never had a bro/sis/mom/dad going overseas for work or study so can't really know what it's like. Well, from this day onwards you're the big brother at home you see? You can change for the better.. Such as wake up by alarm instead of wake up calls by friends during tests or exam day, you can wake other ppl up instead. Won't it be better? hehehe! *evil laugh. Anywayz change is not easy and I believe you'd been trying your best.

Concerning Mahattan Fish Market, guess what? Aldrin, you and me are addicted to the Fish and Chips! Haha! Go view my blog, the Fish and Chips you got is something like mine. Maybe we can try some when school reopen.

About the guitar, I'd decided unless something very bad & unpredictable happen, by hook or by crook I'll buy a guitar. It was my dream of having a guitar before I entered Degree. Well, having it during first year isn't bad too. Haven't decided which model to buy though.. Hopefully we can buy it together this time.. Unlike the "handphone issue"..

God bless you!
By

Ezekiel, at Tuesday, February 19, 2008 at 9:27:00 AM GMT+8

----------------------------------------------------------

Very touched reading this post. For the first time, I can sense that u r human after all...Haha...U do have feelings after all. (don't stone me!! :) Bro, do be reminded that we should appreciate all those around us all the time, as u never know when they will be out from ur life. I do hope that ur working experience at KRR and the departure of ur elder bro will cause u to mature to another stage in life. Take up new responsibilities and show even more love to your family and friends. I'm sure ur bro will appreciate ur calendar very much since it's from ur hard earned money from KRR. Take care bro. Appreciate ya. GBU!! :D

By

Mr. W, at Tuesday, February 19, 2008 at 5:26:00 PM GMT+8

----------------------------------------------------------

This comment has been removed by the author.

By

cheryl, at Tuesday, February 19, 2008 at 9:07:00 PM GMT+8

----------------------------------------------------------

wishing him all the best! well, you reminded me, back in 2007, the very moment when i have to leave kuching and my dear sister who is now in BLois. i miss her so much~...sob sob

By

cheryl, at Tuesday, February 19, 2008 at 9:07:00 PM GMT+8

----------------------------------------------------------

erm... about that accident thingy involving our uni's student... i heard from a friend who is a realtive to the deceased that the motorcycle who caused them the accident was actually a sort of set up. Coz those people actually targetted to rob the savvy coz duh, its late at night... so they wanted to sort of cause a little minor accident so that they can rob the passengers, but things turn out bad... people got killed. right after the accident, the motorcycle guy and his friends took the wallets of the victims... and fled...YEA... FLED!!! OMG... how cruel can people be these days... shit la...

and oh ya, concerning a family leaving to further their study... its sad la... imagine i cried so much just because a friend left me to study in Aussie, if it was my brother who left, i think i will be in dead silence for the next few days la... impact so dahsyat kan? LOL... and also... u go over visit ur brother when u miss him tooooo much until cannot tahan any more lo... lol...

have a good day!!! new sem starting soon... blehh

By

Berberboo, at Tuesday, February 19, 2008 at 11:24:00 PM GMT+8

----------------------------------------------------------

ezekiel: Thanks for the advice. The fish and chips is nice but, its quite costly. Dont you think so? Lee's music guitar is quite expensive. But it's good. Tell me when u wana go, and bring me along! haha See you in degree

mr.W: yealo, johnson is a human. Haha.. Will be posting my KRR's working experience after i resign. And it will be even more gan dung. LOL!

Cheryl: Hey pal! Pray that your sis will be doing well at there too! I will get use to this "leaving".. cas God is in control above all else. :)

berberboo: Yea, such a sickening bunch of people. That's why, dont ever tried to play with fire before it turns out to become something unexpected.

Wah, then hope that there's no "silent" berberboo by then when your bro leave. Haha! I can swin over. It only takes 1 year to reach there nia ma.. haha see you soon!

By

Johnson, at Tuesday, February 19, 2008 at 11:45:00 PM GMT+8

----------------------------------------------------------

The accident happened at Demak, not Satok. And the guy is an acquaintance of mine, though I don't really know him that well.

By

nerdrazor, at Wednesday, February 20, 2008 at 11:33:00 PM GMT+8

----------------------------------------------------------

John, Really touched for the articles that you have wrote.. Going to Australia might sounds fun, interesting but the homesick will always at there.. Entering a new place, you will be train to be tougher, more independent, ur character will be molded... Alot of things.. it is not as easy as what we used to think... Under the family (either physical or spiritual covering is still the best).... take care ya, hoping to see u grow more....