Saturday, February 2, 2008
Worst Movie of the year
short-talk:



I'm supposed to work from 10am to 6pm today. And again the manager asked me to go back home at 2pm. Meaning to say, I only work for 4 hours instead of 8 hours! This has happened a lot of time already not to me only but other workers too. **sigh** I'm so fed up with this unaccountable management. How can i reach my aim if this continues to occur. **sigh again**


Do you know that there are currently 58 workers in Kenny Rogers??!!! That's freaking loads.


Workers are more than customers. -_-"

----------------------------------------
After being
forcefully
invited over and over again by my friends to watch "The Spartans", i finally agreed. Candidly, I'm not
that
keen to watch this movie. Firstly, it's a plagiarism show from the movie 3oo. Secondly, everyone knows the plot of the movie so no point paying another ticket to watch it again. Thirdly, **bla bla bla**....
Yet, with my kind hearted spirit, i'm willing to accompany my friends to watch. Wishfully, it will give me a good laugh after a whole of hectic shopping.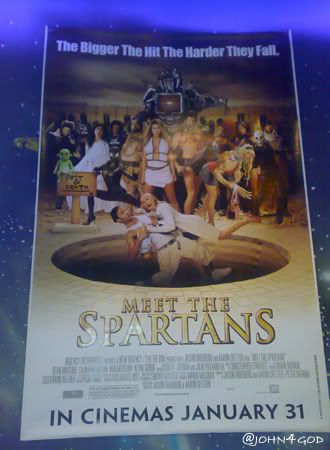 Premier Ticket.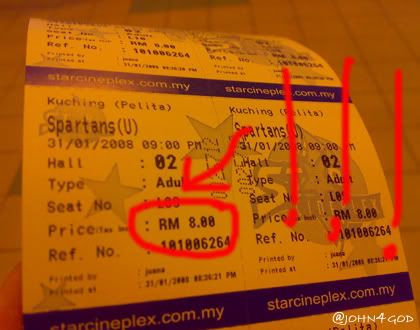 Rm 8 only?

If i'm not mistaken, usually premier tickets will cost around Rm12-15 each. Despite that, it's still cheap for a premier movie. Rm 8 nia..
Sit there with deep exhaustion and awaiting for some scripts to cheer me up.
Watch...
watch...
watch...
After 1 hour...
The movie ends.
Huh? That's all? Yea. This movie is super terrible. Wasted my money and especially
my time
! It lasts only 1 hour plus plus. I didn't laugh much during the show. Bored bored bored. Not to deny, lots of the scripts do bring negative criticisms towards certain celebrities, yet i don't find it funny..
Please don't watch it.
Save your Rm8 and buy other DVDs... =P Currently it's the crowning point in my Worst movies of the year 2008.
Okay, i have complained much. **Stop stop** Anyway, there's this movie that I hope it will contain thorough entertainment.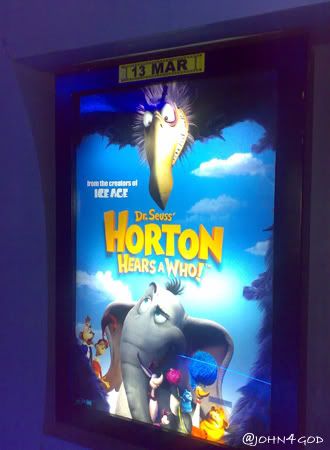 Lesson of the day: "
Good movies are not cheap, Cheap movies are not good.
" Period.
Comments:
Some movies do require a lot of sense of humor. Refer to Avery for more details. =D

And stop with the period thing ba. Sounded so ang moh.
By

Eric, at Saturday, February 2, 2008 at 2:53:00 PM GMT+8

----------------------------------------------------------

American's jokes are sometimes really super duper hard for us, Malaysians to absorb.. Chimnology.. Btw, this is my blogging ho.. whatever words i use is up to my flexibility ho.. Ang moh or not ang moh to me, is still english. :) Once again, PERIOD. LOL

By

Johnson, at Sunday, February 3, 2008 at 1:41:00 AM GMT+8

----------------------------------------------------------

ehee...no thanx no thanx...cuz ur blog is nice..so added to make life easier and and and can let my frenz to read oso...keke...^^

By

p a n d a, at Monday, February 4, 2008 at 9:35:00 AM GMT+8

----------------------------------------------------------