Friday, January 25, 2008
Blogging in tHe Spring?
short-talk:



I have no idea why Kenny Rogers' manager keep accepting new part-timers and now there's approximately 40++ workers in a restaurant. **speechless** And because of this, many of us are given limited hours to work.



Less hours mean less pay.




How am i going to hit my mark like that....

----------------------------------------

Streamyx connection seems to be very fickle for the past few nights. Couldn't log in to msn, send urgent files, check mails, watch youtube, read yahoo news and not forgetting,
blogging
! My life particularly at night has instantaneously become so hollow bah...
The only hours that my connection revives back to a normal speed is morning and afternoon, which means its my working hours. How to blog like that... Perhaps Telekom tries to play a prank with me. Eesshhh...
Anyway,
Kudos to tHe spring for providing free wireless access throughout the hall
if i'm not mistaken
.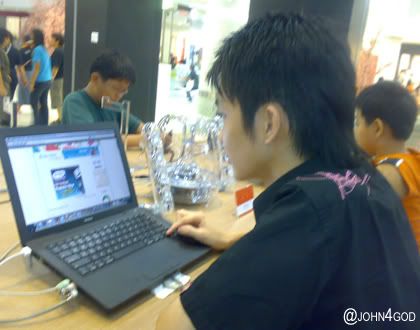 Now everyone is happy. I can now utilize my break time to surf my blog. Cool cool.
See how
addicted
passionate I am right? LOL!
Comments:
Pay you to work, not to blog okay. So obsessed bah.
By

Eric, at Friday, January 25, 2008 at 11:48:00 PM GMT+8

----------------------------------------------------------

eric: I'm responsible with my work le. I work to my max during working hours, and during break time i maximize my time in surfing the net and touring around Spring. Haha

By

Johnson, at Saturday, January 26, 2008 at 12:20:00 AM GMT+8

----------------------------------------------------------

Hey, you bring your oen laptop or what?

By

Ezekiel, at Saturday, January 26, 2008 at 4:41:00 PM GMT+8

----------------------------------------------------------

ezekiel: yea.. you can even bring your laptop to starbucks, and its provide free wireless access