Thursday, January 31, 2008
Roasted Chicken vs. Steamed Chicken
short-talk:



Have anyone watched "The Pursuit of Happyness" already?
Based on a true story. Nice movie to recommend to all of you. I capture loads of lessons through it. **thumbs up** Here's one of the quotes from the father to his son that i really like.


Chris Gardner
(Father):"

Hey. Don't ever let somebody tell you... You can't do something. Not even me. All right?

"



Christopher
(son):"

All right.

"

Chris Gardner
(Father):"

You got a dream... You gotta protect it. People can't do somethin' themselves, they wanna tell you that you can't do it too. If you want somethin', go get it. Period

."
Please watch!
------------------------------------------------

To start with, I used to think that
The Manhattan Fish Market
is no more than just another ordinary rowdy and smelly market selling fishes. Nonetheless, it's really amazing to see how fishes can be prepared in several ways, such as Grill la.. Fry la... Steam la.. Roast la?? bla bla bla.. Til now i haven even placed my foot once to that place.Yearning for the day to come. Mussels... Lobsters...Prawns... wait for me please...
Located just right opposite Kenny Rogers. What a good Feng Sui. Surely that both sides have been working very hard to bring their business to the utmost. One sells chicken and the other sells fish.
**headache**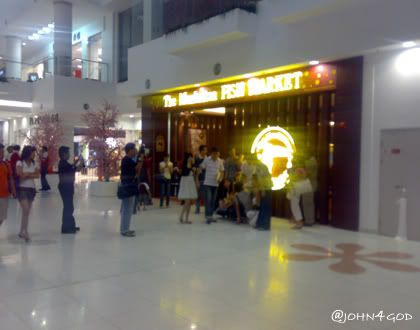 Customer customers and customerssssss....

And it was today when i realized that i'm in error. Fish Market is no longer our main rival anymore, simply cause today during my work, i am so happened to stumble upon this outlet opposite Kenny Rogers. Initially i thought that it will going to be
Apple Donuts
, i'm wrong then. It's ...
Yea. You see it. The interior design looks way better and more attractive compares to Kenny Rogers.
Chicken Rice Shop
ohh
Chicken Rich Shop
. This is what we called warfare. Thank goodness that there's no KFC in tHe Spring
yet
.
This is not just another everyday Chicken rice shop in Kuching. Going to be launched in tHE Spring soon and very soon and very the soon. The tauke must has heaps of guts to inaugurate this outlet in tHe Spring.
Hmm.. Steam Chicken vs. Roasted Chicken.
I'm convinced that once when this Chicken rice Shop sets the ball rolling, at least 30% of Kenny Roger's business will slacken off
at the first 2 weeks only
, then everything will be back to normal again.
That's how Kuchingites rule...LOL!
Comments:
Happyness?

One thing for sure, SugarBun won't appear in The Spring.
By

Eric, at Thursday, January 31, 2008 at 3:34:00 AM GMT+8

----------------------------------------------------------

eric: Yea, HAPPYness. Anyting wrong with it ka?? Grammar mistake ka??Mr. Perfect English.. haha.. Im certain that the author wana emphasize of the word happy. That's why the word appears that way. =)

By

Johnson, at Thursday, January 31, 2008 at 9:35:00 AM GMT+8

----------------------------------------------------------

Chicken Rice Shop is from KL. They are similar to that of Singapore Chicken Rice in Kuching. But they serve pretty good Chicken Rice.

Yeah...happy to see chic rice shop in KCH...

Haha