Wednesday, February 13, 2008
The Immeasurable Friendship.
Short-talk:

Somehow I just like this quote, "

The main thing is to keep the main thing the main thing

." -- Stephen Covey--
-------------------------------------------------------
It was on 11th of February, the fifth day of CNY. Some chosen ones were invited to
Aldrin's
19th Birthday. Who is Aldrin then? He is the youngest, the shortest yet the smartest in our click. A close
lame
buddy of mine.
Thinking of what cake or present to buy is in actuality another headache. Agree or not, birthday organizers?? Anyway, it's still a requisite.



Nothing special though. Simple and affordable. KFC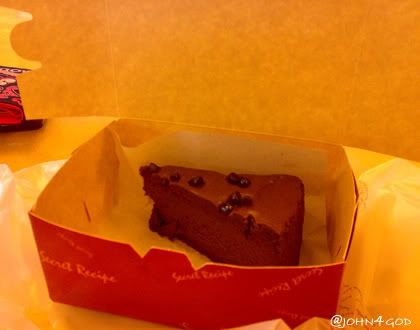 ##Chocolate Cheese Cake##
Bought from Secret Recipe. It was my
first time
entering into Secret Recipe. It was also my
first time
buying cakes from Secret Recipe. It was also also my
first time
choosing cakes for Aldrin. It was also also also my
first time
witnessing such high-class and pricey cake. Still, I haven't even tried their cakes. **hint hint** Luckily, I managed to restrain my saliva from dripping on the cake whenever i sight at the cake. **drooling**
Aldrin, you should be grateful ba.. LOL!
Nevertheless, talking about KFC. Truly, I would still prefer the service there compare to other mid-casual restaurants. The courtesy, the hospitality and the cleanliness obviously triumph over McD, Pizza Hut and now Kenny Rogers lots. I mean
A LOT
more.
My Fav. meal
Off topic already. Nonetheless, this mini birthday bash was kinda of different compared to the previous one where we celebrated his at Damai Beach. It was at this occasion where we wanted to be different. Really different, i mean.
Here it is.

Just to make known of the past to the world
again
, there was one incident where Aldrin
purposely
accidentally broke one of the Ketchup bottles while combining the tables in KFC. Leaving the cafe with disgrace. I mean everyone of us. Something that we will always hark back to whenever we step into 3rd Mile KFC.
His Birthday card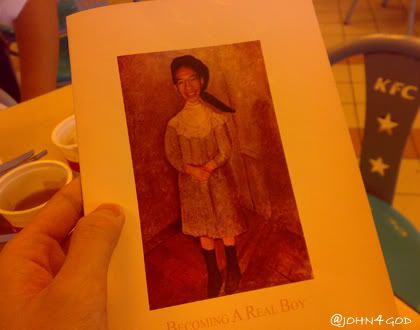 Rather than using those ordinary cards, Eric printed this custom-made card. Okay Okay, it's Keith's ingenious idea. Recalling back my previous celebration, I got this as my birthday card.


goodness... -_-" Mario John-John
Keith boldly pinned that newsflash on the Kid's board. Goshh... embarrassing eh. Worst to say, i was sitting facing towards that notice board. Couldn't help but try to suppress my laugh whenever i
accidentally
look at the board. HAHA ...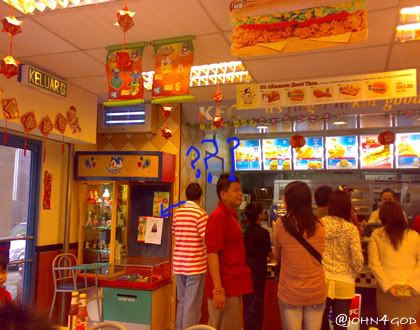 It is just so humorous to see how innocent customers stare at the newsflash. At least they giggled. Haha... Some of them even turned to our table and looked at Aldrin! Haha!

**laugh laugh laugh**
Despite of the thorough craze and shame, we did delight in this mini celebration so much as the previous birthday celebrations' too. Knowing that most of my friends will be leaving to overseas soon. Very soon. Time flies. One more year to go. Two more semesters to enjoy one another's presence before everyone moves to their own path.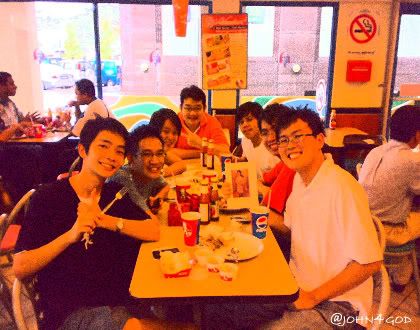 Cheers!!
In fact, a picture is worth a thousand words. The unspeakable joy, the genuine rapport and the
immeasurable friendship
.
Thanks guys. You guys are indeed great!
Comments:
FrIeNdS FoReVeR!! :p
By

Mr. W, at Wednesday, February 13, 2008 at 2:35:00 PM GMT+8

----------------------------------------------------------

so jiwang ba u. LOL

can u say something happier ka? lol

By

abubu, at Wednesday, February 13, 2008 at 11:33:00 PM GMT+8

----------------------------------------------------------

mr. W: haha.. yeayea

abubu:haha.. it is something happy. Just that you interpret it wrongly. In the sadden view. haha... Touching le..

By

Johnson, at Thursday, February 14, 2008 at 12:13:00 AM GMT+8

----------------------------------------------------------

jiwang is not sadden ba...jee..lol

anyhow.. didnt even have a chance to taste that cake ba xP~

looks so sedap xP~~~~~

By

abubu, at Thursday, February 14, 2008 at 1:15:00 AM GMT+8

----------------------------------------------------------

it was keith's idea you know : )

By

~K@cW3y~, at Thursday, February 14, 2008 at 1:38:00 AM GMT+8

----------------------------------------------------------

Keith's idea, but other people's effort. =D

By

Eric, at Thursday, February 14, 2008 at 7:02:00 AM GMT+8

----------------------------------------------------------

abubu: me lagi teruk la, i bought the cake but didnt get a chance to lick it.. haha nv, next time u buy for my birthday, then i give u a little little portion! haha

kacwey: haha.. it's ALWAYS keith's idea! haha

Eric: yea, it's Avery's effort to design Mona Drin. haha

By

Johnson, at Thursday, February 14, 2008 at 9:59:00 AM GMT+8

----------------------------------------------------------

haha.. so funny ba when ppl start lookin around who de heck is dat "shim" (she + him)ba.. haha..

By

~Laura~, at Thursday, February 14, 2008 at 2:05:00 PM GMT+8

----------------------------------------------------------

johnson...i will buy for myself...then eat in front of u. xP

cool..nearly everyone on the last pic commented...except for the bday boy and joe..LOL

By

abubu, at Thursday, February 14, 2008 at 7:04:00 PM GMT+8

----------------------------------------------------------

laura: haha.. yeayea, and when ppl finally noticed that shim.. haha. and they keep giggling.. haha.. what a shame!

Abubu: u buy, i eat. haha.. i wana eat that la.. haha.. i dont mind u buy for me during my bday. haha.. the whole cake. Rm75

By

Johnson, at Thursday, February 14, 2008 at 10:35:00 PM GMT+8

----------------------------------------------------------

yeah u can dream about it 2nite...LOL