Monday, February 4, 2008
Working as a dispenser
short-talk:



A little prophecy: This year's CNY is on the 7th of Feb and Next year's CNY is on the 26th of Jan. =) Enjoy planning then!



------------------------------------------------------------


This is die-die-must-post thingy.

I have been working in Kenny Rogers for more than three weeks now. Over this period of time, i am assigned to work mainly as an order taker. Really enjoy doing it. Tips as an order taker:"If you serve the customers well, you might not know out of the blue the customer will give you tip." Rm 2? Rm 5? Rm 20? Who knows. Depends on how generous they are how well you serve Cause i have personally experienced it twice. **evil laugh** Meaning to say, i am good in serving?? LOL!

And yesterday, somehow Keith and I were assigned for
a better job
. Keith was assigned to work as an assembler. An assembler basically assembles the side dishes on the plate. Easy-peasy? Yea, it will be very
EASY
when there's lots of orders. Mr. headache will then come and possess you. I was assigned to work as a dispenser. A dispenser generally makes the drinks and is required to complete the orders within 60 seconds. Prior to my work as a dispenser, i always think that it's an effortless and diverting task compares to taking orders or hosting.
I was wrong.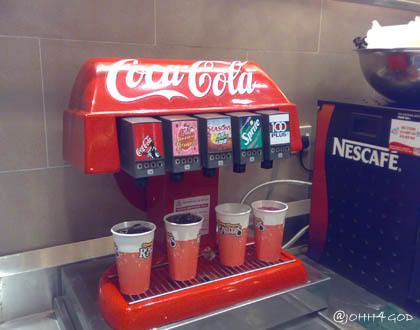 (Picture above as an illustration)


However...


Being a dispenser is not

that

simple as i think it is during weekend when there is a lot of orders to be done. Last night was weird, unexpectedly there was a while where lots of customers started to float the place. Easy for the order taker, but troublesome for

us

as a dispenser and this

us

consists of I, Me and myself. That's hard! Pity me, five to six orders to be done within 60 seconds ???!!! Kelam-kabutnya. How i wish i am superman octopus at that moment.
Yet throughout the shift, i have learned a lot. How to make Fruit Jelly Delight, Float, Muffin Submarine, Cappuccino and so on. I improved step by step after a few tries. But the most important thing of all is to remain a positive and enthusiastic spirit even in the midst of busyness.
Usually for those who start working for the second shift, which is the evening shift, need to do closing too. Closing is in essence doing housecleaning, mopping, sweeping, calculating the earning and lots more lah... so burdensome wan...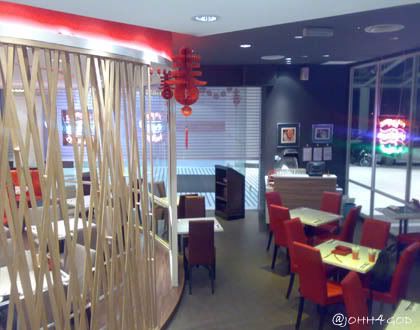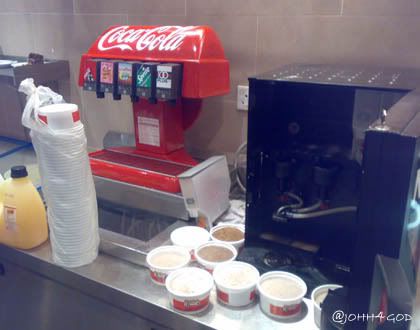 It's really not as simple as you think it is. As a dispenser, I need to my clean and wash my section. Unclosed all of those
water machines
. Wipe every single corner. Clean away the dirts. Make there's no second coming for the ants. Even the ice cream containers have to be taken out and clean the Icebox. Melt the ice. Arrghh... Mahuan betul ...
The Coffee powder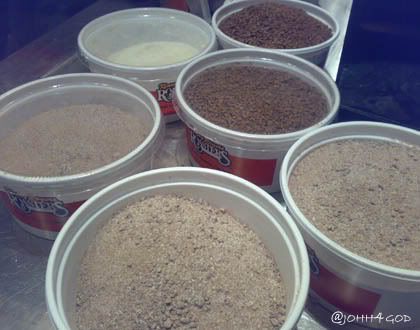 Take out all of the different flavours' powder and store them in the plastic containers.

Thinking that my job was troublesome? Keith's chore was even more laborious. He needs to clean and wash all of the trays and salvers. Gosshhh...


Scooping off the remaining food.





Busy scrubbing off the dirts.



Inexperienced rookies we are, we still delight in cleaning even thought it's past midnight.

Nevertheless, one thing that really pissed me off is the

Star Team

. Just for your information, Star Team consists of a few of so called "experienced" workers that are appointed to train the juniors. Every night during closing, the Star team's members NEVER even help up in house-cleaning, worst to say their names are in the closing's list. Yet, all they do are just sitting at the cushion, listening to some sickening extra loud music and chit chatting while the juniors are hectically doing their cleaning.

So pathetic ba.. giishhh...

Never help up in taking orders, cleaning, serving the customers, assembling the food, dispensing the drinks, cleaning the plates and cups, preparing the food and LOTS MORE. Ki-si nya.. While others are working hard for every single coins, there they are earning blind money. **chopslam them arr**

This is not the end still. When we were almost done with our tasks, out of the sudden, one of the Star Team's members ordered four of us to throw rubbish. -_-"

It's obviously not supposed to be our job

.




Sickening. Sitting there doing nothing for the whole night, they didn't even want to offer a help. Poor me, Keith, Roth and Cynthia had to carry and drag those bulky and stinking plastic bags and rubbish bins all the way to the dumpster. A 5 minutes long walk.




Frankly, we were a little frustrated of being bullied. Despite that, I am still desired to do everything excellently without much complaints, even if we are called to dump rubbish too.





Trieneken.

There was one incident where the plastic bad that contained of lots of glass bottles and caused the plastic bag to be so weighty to be carried up. It was then while we were trying to lift up the plastic bag, a tiny part of the plastic bag had actually torn apart. Gishh.. lots of the leftover food spilled all over the floor. The spaghetti, the disgusting sauce, chicken bones and more more more. And we need to clean up those mess. Simply just so extremely-very-severely-extraordinarily- terribly DISGUSTING!!! Yucks!!
Imagine the fragrance smell with the synthesis of the leftover spaghettis plus surplus drinks plus some black pepper and mushroom sauce... almost make me puke whenever i try to breathe. It smells so
nice
that whenever you breathe in once, you will then realize how aromatic is your "pu pu"
forever
.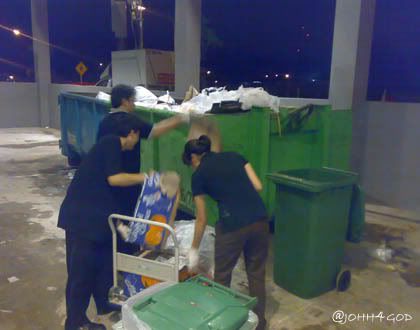 See how pity we are. So, next time
please finish up your food
, and this will definitely enlighten our burden heaps.
Never ever despise
the job as trienekiens. Though candidly to us, we do consider it as an incompetent and third class occupation, but after of what i have experienced it of just 5-10% of all, this job really requires masses of consistent dynamism. No doubt.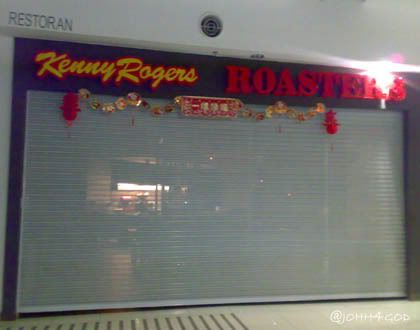 It was around 1 am.
On our way out with our manager.
Everyone was fatigued, so let's call it a night.




Comments:
hey,ytdy i saw u working at Kenny Rogers!!I went there for few times,but never go to Kenny Rogers bfr,u work there for 3 weeks?wah,tiring?nex time if i go there 2 eat,u muz giv me discount ar..haha,keep in touch ya!
By

Pheng, at Monday, February 4, 2008 at 7:11:00 PM GMT+8

----------------------------------------------------------

2moro im working as dispenser.shiat!
okay yeah cudnt agree more. at the end of the day when i arrive home i was so glad that my day was finally over and i had a home to come home to. i spent the next 25 minutes taking my time in the shower. whaha!

when we managed to get the giant green bin at the top, i remembered myself pushing too much and having the other end came out from the mother bin. we almost had our rubbish all over floor instead. now that was funny. we all screamed at the same time. cynthia scream as if she saw a ghost. whahaha that was funny.

nice to work with u buddy.
manhattan fish market!

By

~K@cW3y~, at Tuesday, February 5, 2008 at 3:33:00 AM GMT+8

----------------------------------------------------------

pheng: see me also didnt want to gret me de WORRR... haha.. okay lo, when u pay your second visit, i will give u special discount. promise! u know how many percent? very special wan.. 0%. haha..

Kacwey: haha.. very very very good experience to be remembered. haha. hopefully no more of this throwing thingy. haha..see you later! :)

By

Johnson, at Tuesday, February 5, 2008 at 1:00:00 PM GMT+8

----------------------------------------------------------

Haha.. sounds quite different from boulevard...

today my shift manager even helped take order and send food. Miss Nur, u know her right? haha

But Spring u get to work more ler. In Boulevard we start cleaning at 10 liao and go home 11-11.30.

By

Daniel Chong, at Tuesday, February 5, 2008 at 11:22:00 PM GMT+8

----------------------------------------------------------