Friday, February 15, 2008
My V-Day
short-talk:



I'm thinking of resigning from KRR next Thursday. Should I?
----------------------------------------------

Wanna how i celebrate my Valentine Day? Desperate eh. LOL!
My Valentine's celebration is neither romantic nor starry-eyed compared to most of the couples out there. What to do, i'm still so S.A.D bah--
S
ingle,
A
vailable and not
D
esperate..
I was invited to a couple's wedding at the afternoon. Played drum for them. It's my privilege indeed.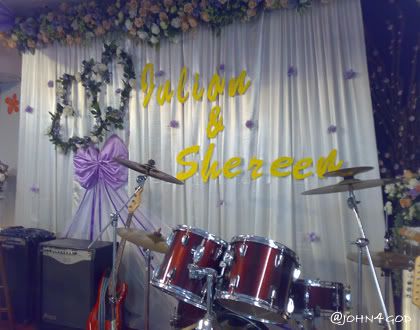 Congrats! More babies to hug soon!!
:p
~*~*~*~*~*~*~*~*~*~*~*~*~*~*~*~*~*~*~
There's nothing special happened to me during V-day. True true. It's neither momentous nor soppy. Yea, better pity me. While other couples are busy dating, here I am, delighting in my dating with Kenny Rogers. I was assigned to work from 4pm to 9pm.
It's then approaching evening where
customers
, i mean
couples
, started to enter into this mid-casual restaurant. As what i has predicted before hand, it will definitely be restless for us as workers during such special occasion. Lots of couples have already reserved their tables a day before. In fact, 14th February was my worst and tiring experience i've ever been through in whole month. Teruk.
Somehow, there's deficient workers for the evening shift. When we are not in need of workers, there's overloaded workers; yet when we are in need of workers, there's lack of workers. Vice-versa. Weird.
Everyone began to get preoccupied when the clock struck at 6. Everyone was doing a four-men work. Hosting, order taking, setting, cleaning, arr.....crazy.....insane and siaw.....
Soon, people started to fill the seats. Every little path started to get congested. Masses of customers started to queue up in front of the pulpit and awaiting for their seats. Customers started to crowd in. Seeing that the insufficiency of employees, everything started to get unruly. There's in no proper control. Everything started to mussed up.
I missed my break. Till when i reached home, i just realized that i haven't eaten. Pity me again.
To make things worst, there was a lack of certain food.
ROASTED CHICKEN!
I'm not kidding. Okay, i know it's funny to hear that. Yet, it's still unacceptable. Running out of muffins or other side dishes is still pardonable. Having shortage of chickens? Utterly inexcusable. Teruk teruk.. Imagine if KFC is running out of fried chickens... As i have mentioned earlier, being a server, you must have a super thick face. It's applicable when there's shortage of food. Chicken ohh chicken... Worst to say, it's during Valentine's Day! Pity the couples. They need to wait for 45 minutes.
There's this phrase that goes,"
Hungry people are angry people.
" Indeed how true it is. I was so so so so so so so restless! I was perturbed that customers might have steamed up due to the deferment of the Chickens. However, nothing bad happened. I tried to explain to them and thank God that they understand and willing to wait for another 30 minutes.
Haiyo, you think they are so "kind and patient" meh? Haha.. it's Valentine man! Who would want to cripple their
special day
right?
For guys, they try to maintain the macho-ness. For girls, they try to sustain their femininity. LOL!
As a server, I was aware of not spoiling their Valentine. So tried my best to keep and retain the sweet smile on my face. Yeap, be cool. No worries, Johnson is not that devilish of desiring to ruin people's special moment.. In fact, I started to feel more comfortable when I tried to maintain my positive attitude. Relating properly with the customers. **Release**
Everything was then back to normal. Both my legs and hands were exhausted. Like a pure ceaseless 5 hours marathon. **perseverance**
I believe,
It was at this time, where patience has been critically tested. The spirit of endurance and zeal are essential. How you handle stress during busyness? I learned and improve heaps in my weakness. Yet maintaining an optimistic and sanguine character are important too. It helps heaps. Really. I learned. Customers love a cheerful server.
That's my Valentine's rave-up! Dot.
What do you think?
Comments:
So many words.
By

Eric, at Monday, February 18, 2008 at 7:05:00 PM GMT+8

----------------------------------------------------------

Always proud of u bro...GBU

By

Mr. W, at Tuesday, February 19, 2008 at 4:28:00 PM GMT+8

----------------------------------------------------------