Wednesday, March 4, 2009
The new realm
short-talk:
The longest show or series which i have found delight in watching and am still faithfully catching up is **snare drum rolls* .....

World Wrestling Entertainment

!! Yea! I have been tuning to it since primary 3. My last watch was just now 10pm. lol..!

Call me a WWE wrestler junkie!

------------------------------------------------------

As enthusiastic as i was, i managed to wake up extremely early and headed to Swinburne Campus ahead of my planned time. It was indeed the very day that every Degree student has anticipated of, the first day of new semester! *hip hip hooray!*


I'm now doing my Third Year First Sem. Excited and exciting as usual. I'm taking Road Engineering, Steel Structure, Engineering Management and Geotechnical Engineering. Three of these subjects are Honors subjects.


Goshh...Interesting subjects though, yet i know things will be getting tougher and much more challenging when each semester passes by. It's not going to be easy though, but it's possible to score well. Gonna pull my socks slightly higher now. Yea, higher than yours! =P

My first day in campus was insane and physically taxing. I had a continuous 13-hours marathon in school. When it hits the last lecture of the day which is unmercifully ended at 9.30pm, my whole person looks like a zombie already. Simply exhausting!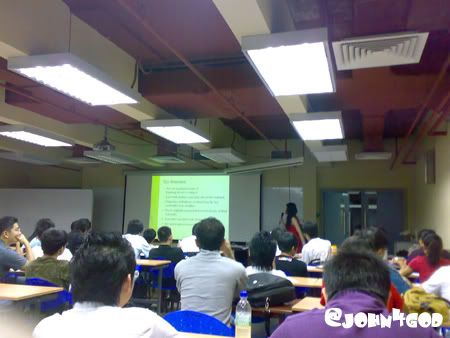 Engineering Management lecture
The tension and sensation of schooling is revived now. I met my good-old peeps. It was great. However, the realm of the friends circle seems to be slightly different from previous semesters. Someone is missing from this Civil engineering circle. It just feels awkward.

Yea, the missing of Aldrin Wong Shen Weeeee.....~~~~
*sigh*
Comments: