Tuesday, October 14, 2008
The Crown of Prom King 2008
short-talk:

Gently reminder:

15th

October is a public holiday. =P
--------------------------------------------------------

Behold!
For all of you are about to set your eyes on the
Swinburne Prom King 2008
in this very post. LOL! Yes! Allow me to proudly declare that i am officially crowned as
Swinburne Prom King 2008!
Weee..... Congrats to Naomi, as the Prom Queen too.
Who could have envisioned it, who could have expected for such noble title to be bequeathed to me this year. It has happened. It has come to reality. Yet, I still couldn't swallow down this title. I'm overwhelmed.
#tada#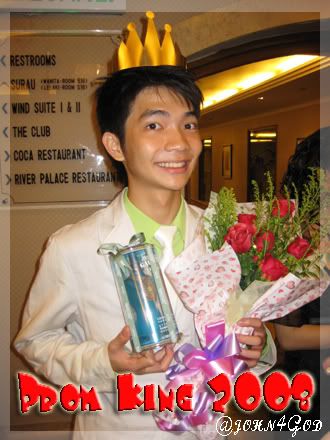 This was my second encounter to Swinburne Prom night. Previously was back in 2006 where it was organized in Civic Centre. This year's Prom was held in Crown Plaza.
The food was decent. The service was passable. The atmosphere was middling, not much of hoo-haa happening. Despite that, the lighting was
terrificly terrible
. Throughout the performance, the lighting was flashing brightly towards the entire congregation but not towards the performers on stage. Weird. None of us could see the performers. Everything was so dark on stage.
Pity them and pity us that we couldn't even see who's singing, dancing on stage.
Be that as it may, it doesn't really matter now. I shouldn't evaluate too much about the night since i have already walked away with a One-Year contract as a Swinburne Prom King.
*evil laugh*
Plus a wonderfully expensive perfume,
Jean Paul
and a bouquet of fresh and reddish roses.
Wow. Paying for just Rm 55 for such formal dinner is surely a whoop of joy to me for this round. Ya!
I would not scribble about the entire programme and performance of the night here 'cos i couldn't grab hold of sufficient quality snapshots from my paparazzi friends to prop up what i wanted to write. Anyway, I'm now maximizing these limited photos i have on hand.



Before, During
and
After
the crown.
Bring in the climax.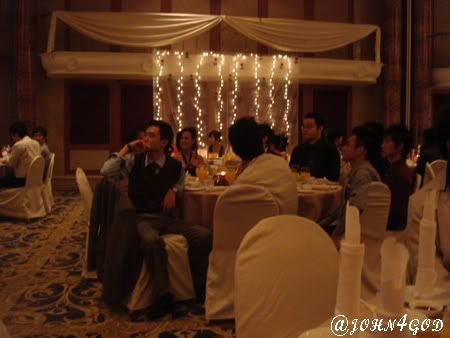 Everyone in the hall was waiting for nominees for the Prom King title. 350 plus people voted for the preferable name and the top 5 with the most voted names will be called to the stage.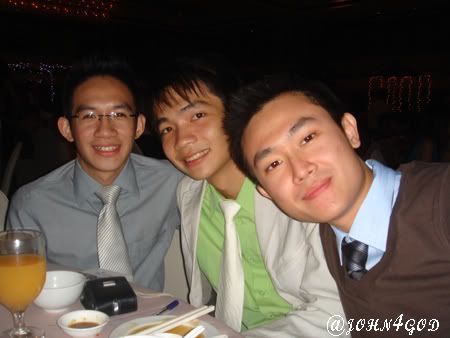 Smile.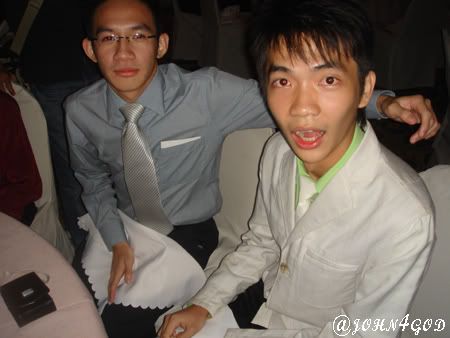 "Johnson....."
And my name was the first to be called through the mic. Woot!
Four guys and one innocent Kuching Boy -Johnson- were nominated. I did not know how the other 4 guys felt, but i was extremely super shaky and strung up when i was on stage. My hands was freezing. My legs was shaking. Even so, i controlled my body so tightly that i didn't want the 346 people to see me alone vibrating my whole body on the stage.
As expected, i knew that the MCs would definitely ask the nominees to give a good reason why do we think we should be the next Prom King. And with a little spontaneous think through, i answered this when it's my turn.
So for those who missed out my speech, this was what i said through the mic.
"Hello, i'm Johnson. A student from Civil Engineering.....And I believe all of you know the show,

Everyone Loves Raymond

right?...So I know

Everyone Loves Johnson

too....
The reason why i think i should be the next Prom King is because i think i have the Prom King look...."
Everything was impromptu. I wanted my answer to be sightly different. When i took the mic, I was just spontaneously spitting out what's in my mind through the mic. And i was
NOT
nervous at all. *phew* In fact, i enjoyed myself during my short talk.
Thank God that there's some good and positive responses from the crowd. I heard massive rounds of applause and crazy bunch of uncivilized friends yelling
"JOHNSON JOHNSON...."
from the floor. Not only once, but from the north to the south, east to the west, I only heard people screaming
"JOHNSON JOHNSON....JOHNSON......"
over and over again.
Speechless.
And the following question, the MCs asked us,
"What would you do if you have forgotten to celebrate Valentine's day with your partner..?"
And again, my mind was in total blank. What a question! I quickly thought through of what to say. Since i was the fourth guy to answer, i took the opportunity to observe what would the three guys before me answered to this question. And the guy before me gave me and the crowd a thunderbolt, he took the mic and sang a love song to the girl.
"..waiting for you...i'm waiting for you..."
Great tones and melody uttered from his throat. I was stunned.
Instantly, right after his singing, i have an idea of singing a song too. But being as a true considerate guy, i have decided not to spoil the crowd's ears with my quaking duck's voice. So when it reached my turn, i just answered:
"..I will use all my knowledge in Degree and create a

Time Machine

and rewind back to the date and re celebrate it again.."
Don't laugh. I know it's lame. What to do, it was my another spontaneous speech. =P
In a while, everyone re voted again. The result was then announced. And yea, i am declared as the
Prom King 2008
. *grin* Naomi is the
Prom Queen 2008.
#tada#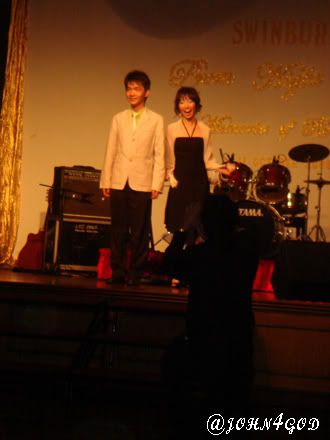 Thanks to all my friends' voting. The tables. And all of the unknowns who have voted for me secretly. Truly that without your votes, i wouldn't hold this title. I appreciate it heaps.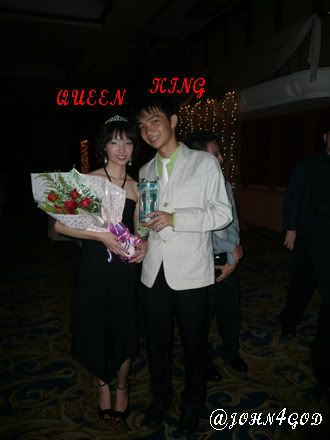 Naomi and me. And the jester's hiding behind me.
#After#
On cloud 9. Enjoyed every second of the snapshots.



The king and the secret agent.




The king and his ministers.

The king and his royal kins.

~*~*~*~*~*~*~*~*~*~*~*~*~*~*~*~*~*~*~*~*~*~*~

Okay okay, enough of self-praise.
I really enjoyed every single bit of the happening, from start to the end. Avery Wee won a grand prize in lucky draw. Ah Yieng dominated the Best attire and Princess title. Jackson and Tyng Tyng won the Best Couple award. Johnson won the Prom King title.
Nonetheless, beyond all these, i am so thankful and grateful of the fruitful and indescribable moment i have with my great buds. The unspeakable joy of being together.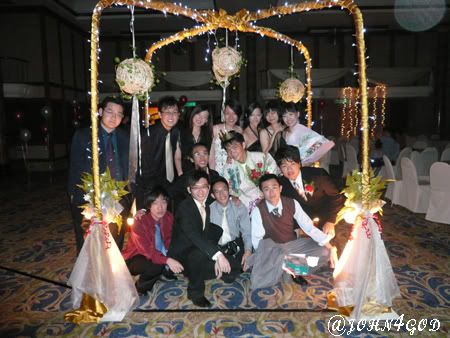 You guys are simply awesome! I thank God for each and everyone of you.

In a nutshell, having the crown as a Prom King 2008 is inevitably a blessing. Perhaps a BIG gift for me before my 20th anniversary. =P
"People voted me, i won it and that settles it". =P
*wink*
Comments:
your majesty~!!!
By

keithchong, at Tuesday, October 14, 2008 at 2:38:00 AM GMT+8

----------------------------------------------------------

Your majesty...

Congratulation man...
u go the crown...
Im so regret tat im cannot make it tat day..OMG!!

nevermind, next year, we go again..
haha...
did u cry when they announced ur name?

By

ivy, at Tuesday, October 14, 2008 at 2:40:00 AM GMT+8

----------------------------------------------------------

keith chong: lol...

ivy: Yealo, everyone was waiting for your coming. Such a great time that night. Don't worry, i'm old enough and i know how to control my tears... haha!

By

Johnson, at Tuesday, October 14, 2008 at 4:48:00 PM GMT+8

----------------------------------------------------------

HAHA.. congratz.. u really turns dream into reality.. Wooots... PROM KING!!!

~~Angie~~

By

Anonymous, at Tuesday, October 14, 2008 at 7:02:00 PM GMT+8

----------------------------------------------------------

So now you have been voted as people's representative to the Government u know what to do right? Everything that u've said to make us vote for you. Haha!

By

Ezekiel, at Wednesday, October 15, 2008 at 1:00:00 AM GMT+8

----------------------------------------------------------

angie: lol..thanks thanks...=P

Ezekiel: So what should i do eh? Tell the PM you are a good citizen? lol..

By

johnson, at Wednesday, October 15, 2008 at 11:19:00 AM GMT+8

----------------------------------------------------------