Thursday, May 8, 2008
Kueh Chap @ Poh Kwong Park
short-talk:



The sudden cyclone attack right at the center heart of Myanmar has definitely caused a great lost to the nation. Up to date, there are approximately more than 25,000 lives have perished and 30,000 lives are yet to be found.

It's saddening. It's like Tsunami, when history repeats itself again.

Prayer is much needed right now.

----------------------------------------------------
I couldn't recall back whether i have blogged about this entry, but still nothing can stop me when it comes to
F-O-O-D
!!! It's just so tempting! **drooling** It has been quite some time since i last blogged about Food. There....fore..... here I am, sitting right in front of the keyboard, fingers down and start typing ----
Kueh Chap!
The unspoken beauty of Kueh Chap. The veiled fascination of Kueh Chap. You gonna love it!
I always yearn for a chance to taste nice and eatable Kueh Chap in Kuching, but frankly not much stalls have dished up quality Kueh Chap. Up to now, i believe i have tasted the most appetizing Kueh Chap of all. Of cause, it's based in agreement with my own tongue. So, don't stone me if you disagree with me arr....LOL!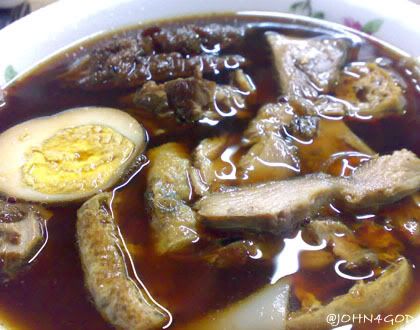 Located at Poh Kwong Park, near Green Road. The stall is situated behind the Poh Kwong Park shop lots. A kinda quiet and unfrequented area that is scarcely known by many, yet the hidden and super duper nice Kueh Chap in Kuching can be found there!
It's just so so so different compared to all of the Kueh Chap sold in Kuching. Somehow this version of Kueh Chap does
successfully
entice me back in those years. I just like it!
Many have rated that the one near Sekama serves good and tasty Kueh Chap, but Johnson disagrees!!! I have found one that i believe can loftily triumph over Sekama's Kueh Chap with much ease. **evil laugh** The difference is quite hard to put in words, you just got to sample it yourself. The gravy is nice and a bit sweet. Perhaps it's because of the sugary taste that has allured many customers. hmm... good tactic, tauke.
Usually, Kueh Chap serves with exclusively porks right? Those intestine, pork stomach, ears, pork tongue and other yucky stuffs. But for this Poh Kwong Park's Keuh Chap, the tauke is quick-witted and smart enough to yank out those
kuchingites-will-not-eat
"decorations" and replace them with
chicken feet~~~
Smart move! =P
Who knows the tauke's intention is to reach out to those non-halal eaters too! LOL!
Sambal

This dip tastes rather special in the sense that it's both spicy and sweet at the same time. Weird taste but perfect mixture!
Dribbling?? My stomach is growling badly now as i'm typing this post.
Last snapshot

Comments:
u havent eat the pending wan yet...no chance to bring u there so far...after u makan there 1...u might just change your mind...LOL
By

abubu, at Thursday, May 8, 2008 at 5:16:00 PM GMT+8

----------------------------------------------------------

abubu: LOL! I'm waiting PATIENTLY. But i'm 100% confidence that Poh Kwong Park's KC will beat the pending de.. haha.. Let's see...

By

Johnson, at Saturday, May 10, 2008 at 12:32:00 AM GMT+8

----------------------------------------------------------

i like the Poh Kwong Park's Kueh Chap...it really nice ba...hehe...
the taste is very special ... only RM4 nia...haha

By

Tiong yienG, at Saturday, May 10, 2008 at 12:19:00 PM GMT+8

----------------------------------------------------------