Tuesday, December 2, 2008
True Relief
short-talk:
I will be flying over to KL on this Wednesday, which is actually tomorrow. For my church convention and extra four more days lingering around in KL City. Woot!
Shopping? Oh yea!
--------------------------------------------------------
Behold once more, Johnson is back in rescuing and reviving his forsaken innocent blog. Close to a month of no blogging is so unaccustomed. For those who have been faithfully creeping up on my abandoned blog, this post is then your reward.
My exam is over! Stress freee.....eee......
I shall now declare freedom. Let us shout together as one voice:
"Merdeka! Merdeka!".
It is always a pressured and stressful month whenever it hits the last few weeks of the semester. Students will be suffocated by stacks of workloads. Merciless lecturers will utilize this opportunity to assassinate us, the victims with venomous lab reports, presentations and assignments. Some who can barely bear with the toxicant will be poisoned to death.
Of course, i am the survivor.
This semester is sightly tougher and laborious for all. More workloads. More sacrificial time is needed. Actually, prior to this semester, i have already presumed that my four subjects will be harder, workloads will be heavier than before. Thus, because of this, i have to abandon my blog for the entire month. Unfaithful me.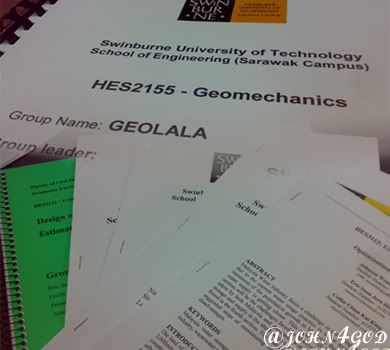 Assignments await to be handed in.


Let me count. If i am not mistaken, a total of 6 lab reports, 5 assignments and 2 presentations were thrown to us at the last couple of weeks to be done. Many times, it is due to these massive workloads, we could hardly squeeze out sufficient quality time to revise for the final exam.
Suffering yea?
Thank God, after the extra push to accomplish all of my assignments, i managed to get all things done on Friday. That is the fastest speed that i could go. Nonetheless, my final paper started on the following Monday.
Die.
Choy. After Friday night, most of my peeps have decided to camp whole day in the classroom until the end of final exam. From morning until late midnight, we tried to brush up all of the uncovered chapters. It was tired though, when you knew the clock was ticking so fast and many syllabuses were yet to be read.
For some hours, we need to stretch beyond our limits if we want to gain good grades. Noted that we have paid a few thousands for each semester. Two thousands for each subject. Mahal betul. Our physical body and mind were stretched to the utmost.
Candidly, i was at times too exhausted. My head was so in pain. Yet, when I see all these as a delight in studying before i officially work, everything was then turning into a pure
JOY
.
Half dead.
It was just amusing to see how students who seldom appeared in class for the first half of the semester, started to pop out at the final hour in campus and joined the study group. Amazing huh?


Regardless of the drowsiness and uncomfortable hour that one needs to abide, many had put in extra sacrificial effort for these final papers. I can testify that.

My last paper was on yesterday. Weee.....Holiday! I can now sniff a relief of alleviation. Stress free! The feeling for now is so great. No more assignments and exams to prey on my mind.

Reckoning back on last week and the week before, time is really moving in high speed. I have completed my second year in Civil Engineering. Third year is coming up. Some of my friends will be leaving to overseas next semester. You know who you are. For those who do help and guide me in my study too.


I appreciate it heaps. *wink*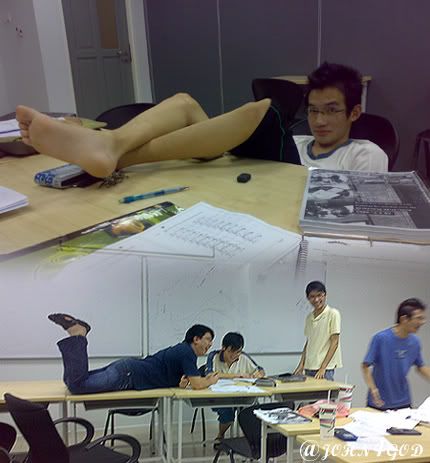 The joy of studying together.

Three months from now, Swinburne library and classroom will switch into a hushed place. No lectures, no tutorials and no baboons bising-ing around....
Year 2 Semester 2 is officially over. I am grateful to God for meeting a lot of great peeps in Swinburne. You know who you are. Thank you all for walking together with me for this entire year. You guys are great!
And for now, i will be flying over to KL tomorrow late evening. After that, i need to sit down, pen down, jot down and plan out my three months looooonnnnggggg holiday. Again,
"Merdeka! Merdeka!"
Hehe. *grin*
Comments:
Hahaha...FINALLY...the long awaited blogger has come back ALIVE to HYPE UP the blog once again..haha...Great to hear that you have passed the misery time...can't believe you have finished your second year already...so fast...Johnson is growing older....(I repeat older) liaw...haha..time really flies. Well bro, have a blessed time at MNC and TQ in advance! :P Take care..GBU bro! :D
By

Mr. W, at Wednesday, December 3, 2008 at 12:12:00 AM GMT+8

----------------------------------------------------------