Sunday, March 2, 2008
Perfect Laksa?
short-talk:



Me and my baboons' peeps have just conquered Sushi King last night. We were all crazily and hungrily eating sushi like some void vacuum cleaners. However ....

to be continued .. :D
-----------------------------------------------

P/s: Here's another food's entry. Everyone loves food, i believe..LOL!
Whenever
Penang Laksa
is being mentioned in Kuching, many Kuchingnites will forthwith cconclude that it tastes weird and tangy. It's categorically
sour
! Agree? No offense though. Maybe it's their tang of their own version of Laksa. In fact, to me the word "Lak" symbolizes spicy, right? So it's contradicting if Laksa which supposes to taste spicy end up tastes sour.
Suan-Sa??
Anyway, speaking about Laksa, i'm certain that Kuching does serve the best out of it. I'm not sure that whether
authentic
laksa should taste like that, but somehow it does taste nice. I like.
Never ever underestimate my capability. I know i'm skinny, i mean
slim
. Not to deny, i'm a great conqueror **cheers** when it comes to eating.
nyam nyam
. I have been to several stalls to try out Laksa.
Still, different stalls come out with their own version and paste of Laksa. Nice places that sell good Laksa are Foody-Goody (Tabuan Laru), Top One (Behind Hock Lee), Bormil and so on.
Laksa.


With the manifold versions of Laksa in Kuching, the authentic paste of it should not be thoroughly omitted. I would not consider myself as a Pro Laksa freak, but at least i do know what is nice and what is not. Haha..
What makes a complete taste for Laksa?
3 points.
Point one.

Gravy

, of cause!
Laksa's gravy should neither be too spicy nor insipid. If it is too spicy, it will end up into a bowl of Ma-Lak-Mian.
I hate Ma Lak Mian though! Or should i call it Burning Noodle.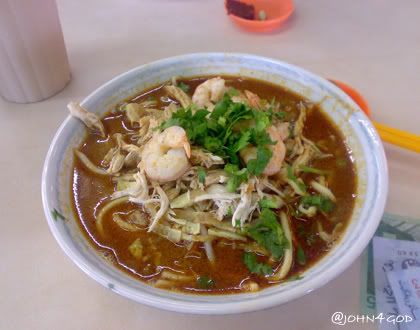 Secondly, the gravy should never be mixed together with hot water! Often times, i notice lots of stalls like to mix hot water with the gravy when they are running out of gravy. Which is obviously WRONG. It spoils and ruins up the aromatic taste of it. The reddish gravy is then become grey. Yucks!


Plain water with bihun .... yucks~~~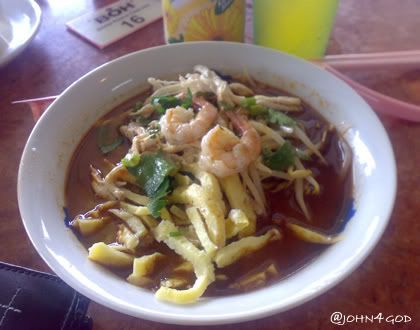 Point Two. The decoration. Important important! Anyone here enjoys eating only bihun with gravy? Don't lift up your hands. You are not a human.
What type of decorations then?
Prawn.


I should say prawn is the highlight of all. It must be equally
fresh
and
big
. Okay, let me emphasize this appropriately. No overnight prawns please. It's yucky and sickening. I hate eating prawns that are not utterly freshed. It produces a weird kind of smell.
Secondly is
the meat.
I observe some stalls always serve chicken's skins rather than a proper spice of meat. Terrible right?
**drooling**
Nonetheless ....In my opinion, Foody-Goody serves the best Laksa of all times. Their Laksa are simply just special in sense that it does allure you to have the second visit. Temptation.
My third and final point that make a good Laksa is ....
**drum rolls**
The price!!!
Every Kuchingnite is frugal when it comes to money. Don't deny eh ...
I received news that the price of Laksa at Foody-Goody has increased shockingly to
Rm5
per normal bowl! Whatt.......That's way too pricey. Now I have blacklisted the cafe already. No more Foody-Goody. =)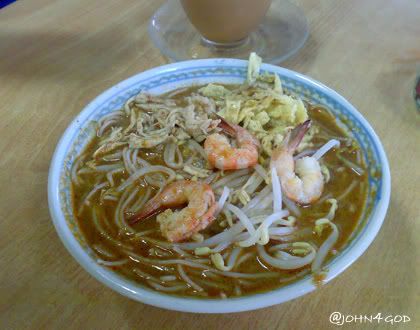 That's what make it perfect.
**Salivating**
Comments:
laksa...so nice...buddy u has get the points...haha
next time u can be the food advisor...:)
By

Tiong yienG, at Sunday, March 2, 2008 at 8:13:00 PM GMT+8

----------------------------------------------------------

Unitl the end which is the nicest ler?

By

Ezekiel, at Monday, March 3, 2008 at 11:01:00 AM GMT+8

----------------------------------------------------------

tiong yieng: i'm owas a good advisor.. LOL! nola.. just share my points of view ma.. haha..

ezekiel: erghh... still searching. Maybe TOP 1...

By

Johnson, at Tuesday, March 4, 2008 at 12:14:00 AM GMT+8

----------------------------------------------------------

dont go there got pondan man.
"yang itu lagi...lagi cute!"
my god *pukes -_-"

By

~K@cW3y~, at Tuesday, March 4, 2008 at 11:49:00 PM GMT+8

----------------------------------------------------------

suddenly i feel hungry.. haha..