Friday, March 14, 2008
Laser Tag vs. CounterStrike

Certainly the election has just ended, but the drama has just started. Stay tuned.

When biblical prophecy came to past, it's abit scary though.. Yet with every single word that is precisely fulfilled, it's alarming!


Malaysia will soon undergo a tremendous change.
------------------------------------------------
It's
fun
! It's
exciting
! It's
challenging
! It's
tempting
! It's
stimulating
! It's
action-packed
! It's all just so
cool
! It's just the
everything
. Desperate enough to know what's "
it
"?
CounterStrike

!
Of cause!
(Don't cheh arr.....)
I'm pretty sure that everyone knows about this well known game, CounterStrike. I used to get soooo addicted in playing such game, killing people, team work, shooting people, plant bomb, which i believe most of the youths do face the same symptom too. Somehow we, youths just find pleasures when it comes to shooting and killing enemies. Weird.
Anyway,
It has been ages since i last
shoot
someone. Due to my busyness student life, computer games has barely listed in my leisure activity. And many thanks to
**you know who you are**
of introducing to me this
i-never-know-it's- just-right-opposite-my-campus's
game,
Laser Tag!
Laser Tag is kinda similar to CounterStrike. It's basically played with real life humans instead of using keyboard. It is an informal interpretation of CS itself. Nevertheless, it's pretty entertaining compared to Counterstrike! Trust me, you gonna love it!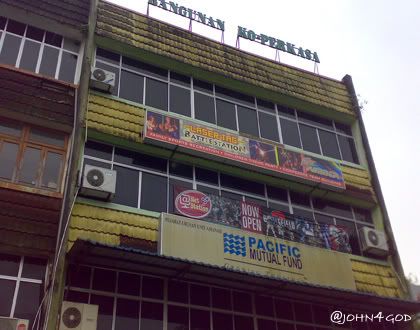 This shop has been located opposite my campus for years and i never even realize of its existence. Forgive me,

the banner doesn't appear to be

that

attractive.

LOL!

After knowing that there's such game in Kuching, hehe..**evil laugh**, the reawakening of holding a gun and start shooting people has just revived. Not only me, but also my baboons too. I have never tried Laser Tag before, I supposed Laser Tag should be quite a challenging and fun thing to try out after watching those exaggerated and cool moves of shooting from Hollywood actors. Can't wait!

Of cause, what i mean is not like those insane guys that

unambiguously take a gun out of nowhere and start shooting innocent lives.

We are proper human. We handle guns properly.

It's not that costly though, Rm 4 per person for one game. Each game consists of 20 minutes and 10 minutes of each section. Okay la, affordable. Go once awhile can laaa. haha!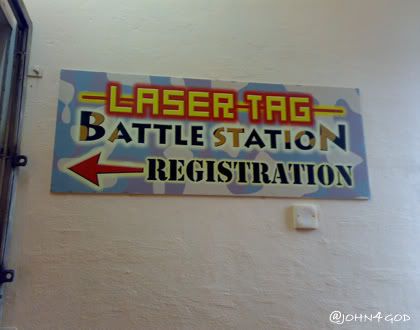 There are several creative scenarios that you can carry out for each section. We played "Team Elimination & Capture the Flag". It's seriously FUN!
Creativity, proper planning, high energy level and teamwork spirit are essential for every game. It's all about strategy! Remember, tactics tactics. The more people, the merrier it is. More enemies to kill! Haha!
Everyone was fully prepared.

It's our first attempt. Rules and regulations is still a must for all newbies to be conscious. The funny thing was the Person-In-Charge who was supposed to explain and brief us pertaining to the game's rules did not even bother to explain to us. LOL! "
Read it yourself
", he said.
Armor on!

Candidly, the gun doesn't really look like a proper shaped revolver. It's strange though.
Game on! Start shooting!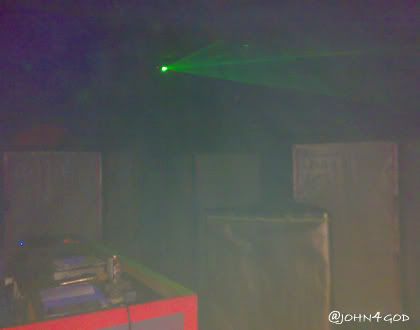 #Shoot#


Chiong Arrrrr

#Shoot#


Chiong arrr



#Shoot #




**Sorry, no pictures taken during the game. Everyone was too focused in shooting people.**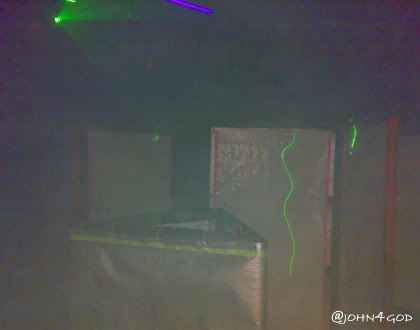 The place is quite dark and smoky. No worries. There's no hantu to be found.
It's really challenging! Seriously. Teamwork is very important. It portrays your plan of action. Best strategy takes it all. How you save your own life and protect your team members from dying. And chiong arrr... and shoot your enemies.
One of the games that we played was "Capture the Flag". Again, it's fun! True true. It's challenging for the opponents to get into your base and capture your flag. Which is the mission of cause. But along the way, it's involved shooting, screaming, yelling, dying and chiong arr.... it's fun fun!
Even girls enjoy shooting people. Agree, laura and ah yieng? =P
My score.

**Applause to my shooting skill**

Played for 40 minutes nonstop! Everyone sweat
cats and dogs.
Best way and the fastest way to keep fit. Don't underestimate this game eh, it's thoroughly

healthy

.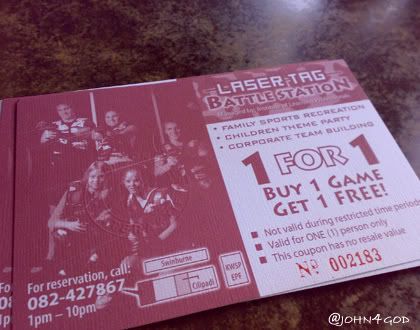 At least, we are given 10 Free Tickets. Cool indeed! Worth it though. Do try out if you haven't play. Bring your friends. 15 friends will do. Call and book the place for early reservation.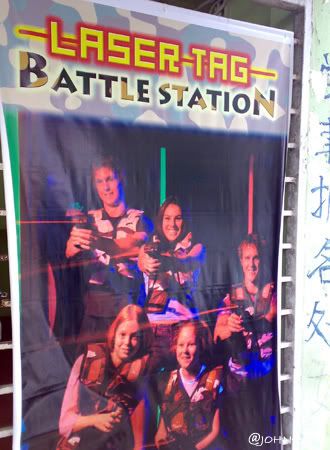 You need not to play CounterStrike anymore. Try out Laser Tag. It satisfies all your needs!


After running and shouting continuously for 40 minutes, everyone was completely dehydrated. Desperately yearning for drinks. Acclaim to Chilipadi, you save our lives heaps.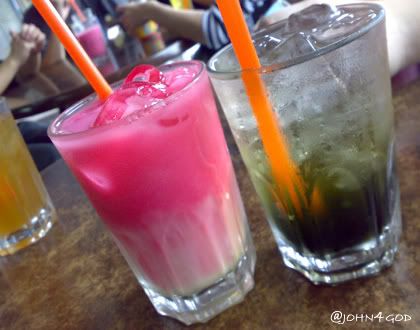 Satisfaction.
Song arr song arr
Comments:
the vest was so small i had a hard time putting it thru my big head..LOL
i didnt even ask if they have a bigger size wan ba

anyhow..they shud introduce something like got 'life' wan bah where u dun die straightaway with only 1 shot...not like terus shoot the target then die liao...and maybe a headband to enable headshots too...lol
By

abubu, at Friday, March 14, 2008 at 12:25:00 AM GMT+8

----------------------------------------------------------

EEEEEEEEEEEEEEEEEEEEE!!!!!!!!!!!! i want to play ~~ next time invite me ar~~ a nice game to release stress

By

QQ, at Friday, March 14, 2008 at 12:37:00 AM GMT+8

----------------------------------------------------------

So coollllllll!!!!!!!! So when are u going to bring me along? (been asking this qn for ages but the day has yet to arrive, whether to taste the chocolate drink, to KRR, to anywhere u mentioned in ur blog)...sigh..............need to release stress now.....u standby for me to hunt u down...hahahaha...

By

Mr. W, at Friday, March 14, 2008 at 3:52:00 PM GMT+8

----------------------------------------------------------

abubu: good idea good idea. We should suggest them to use headband. haha! Then i can "headshot" you.. haha!!

qq: can can.. will invite u next time!

Mr.w: i dont mind if you chia me eh.. haha!! To Krr??errr.... better no.. maybe to Hilton for the Hot chocolate! LOL!

By

Johnson, at Friday, March 14, 2008 at 5:11:00 PM GMT+8

----------------------------------------------------------

haha...i still wan to play..so fun ba..haha and the armor plate so heavy... reli nice games...
thanks for invite..hahaha

By

Tiong yienG, at Saturday, March 15, 2008 at 12:35:00 AM GMT+8

----------------------------------------------------------

Thought I would comment and say great theme, did you make it for yourself? Really looks excellent! financial help

By

Anonymous, at Friday, November 12, 2010 at 3:04:00 AM GMT+8

----------------------------------------------------------

Thanks for this post, I am considering talking about the same in my blog. financial help

By

Anonymous, at Saturday, November 13, 2010 at 7:14:00 AM GMT+8

----------------------------------------------------------

I have just added this post to buzz.com scholarships for women

financial help

By

Anonymous, at Wednesday, November 17, 2010 at 7:51:00 AM GMT+8

----------------------------------------------------------