Wednesday, November 28, 2007
A try at Alan Salon
Short-talk:

I am editing my new blogskin. Quite complicated and stressful when it comes to CSS code. Tidy up my messy and unused codes. Despite that, everything gets in tune when i am patient with it. So stay tuned!



---------------------------------------------------------------


For the past few weeks, I have always wanted to get my Tarzan hair a trim. Couldn't find an appropriate timeslot for it, and at last my dream has fulfilled!


I have been to quite a numbers of hair salons for hair cutting. It was so opportune that this time round, i chose Alan Salon.


I'm not rich k. I was aiming for the Junior Hairstylist, Rm 15. Reasonable price eh..... I even mentioned to them, "I want to cut Rm15 de...."
The interior design looks so professional and appealing bah...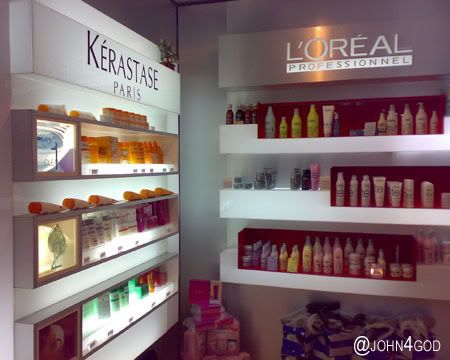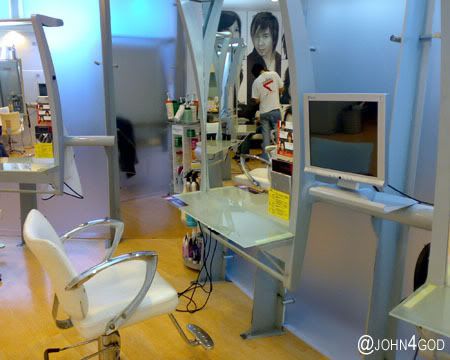 Aiseh man... Got flat screen TV somemore.



Maybe one day i should try up this fashion and walk around in Swinburne. Hmm...
Don't you realise that the two white shirt guys keep peeking at me..?? **cough cough**
After 10 minutes .....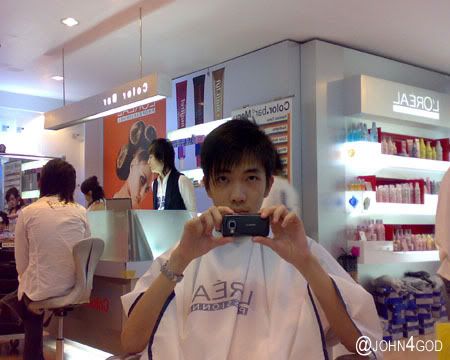 Still trimming ....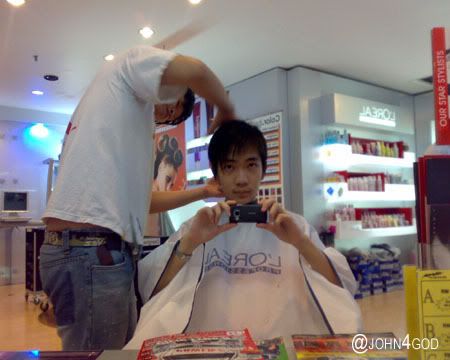 After washing my hair for the second time, they sent me a _______ to dry my hair.
Setting up my hair with mug.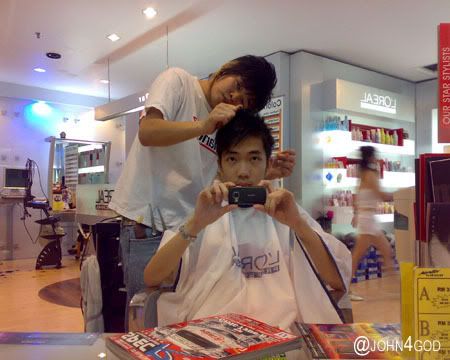 People take picture, he also wana pose. Tsk tsk..


Done!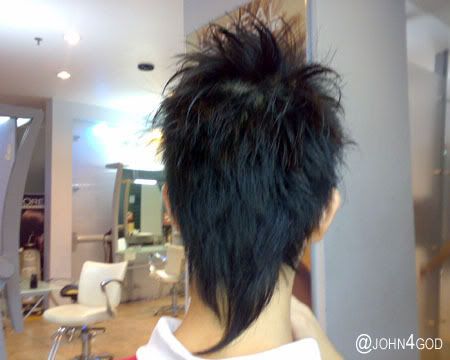 Pony Tail!

The irresistible snapshot!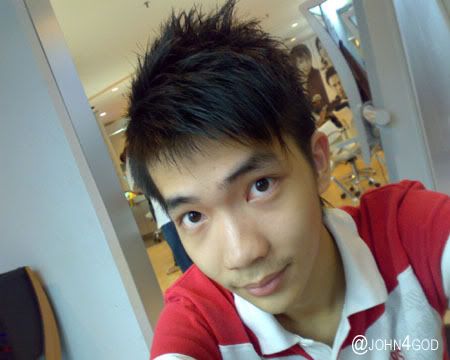 Once again, my youthful look is revived!

**Just ignore that mustache k***



Comments:
RM 15 aa? Not very reasonable pun. I can cut twice aa. Haha.
By

saykhia, at Wednesday, November 28, 2007 at 6:26:00 PM GMT+8

----------------------------------------------------------

OH gudness..ur hairstyle..wow,..haha..

By

cheryl, at Wednesday, November 28, 2007 at 9:29:00 PM GMT+8

----------------------------------------------------------

wah.., now only if something can be done bout ur.....,

By

S o.O n, at Wednesday, November 28, 2007 at 10:37:00 PM GMT+8

----------------------------------------------------------

sent u a wad to dry ur hair ar??? ahem... haha

By

~Laura~, at Thursday, November 29, 2007 at 1:16:00 AM GMT+8

----------------------------------------------------------

saykhia: haha.. yours also not "that" cheap eh.. Rm15 not bad la. can last for 2 months..

Cheryl: speechless.?? nice ha.. haha

Soon: yours also not bad eh.. so "yo man yo man" style..

Laura: you fill in the blank yourself eh.. dont pull me into trouble oh.. haha!!

By

Johnson, at Thursday, November 29, 2007 at 4:02:00 PM GMT+8

----------------------------------------------------------

850325Honestly speaking. Your hair style look nice from front view. But not the back. (Just tell the truth in Love).
Everytime I meet you, I wish that I have a scissor to cut off your porny tail.
Hahahaha

By

pmp, at Friday, November 30, 2007 at 1:05:00 AM GMT+8

----------------------------------------------------------

u finally wan to go cut hair lo...
almost like a gal already...hehe
anyway a nice hair style and still have a porny tail..:)
juz the mustache make u look old...haha...so u know how to do...
may be next time i want to go alan salon to have a try...hehe

By

Tiong yienG, at Friday, November 30, 2007 at 3:37:00 PM GMT+8

----------------------------------------------------------

Fainted......

By

Mr. W, at Friday, November 30, 2007 at 4:14:00 PM GMT+8

----------------------------------------------------------

pmp: cut lo if u dare haha..

tiong yieng: yeaps, u wil never know if your hairstyle turns out to become so sui.. give urself a try eh..

Mr.W: haha... Need me to call ambulance???

By

Johnson, at Saturday, December 1, 2007 at 12:10:00 AM GMT+8

----------------------------------------------------------

i used to go alan cut hair till 1 of their 'sifu' cabut and open his own salon elsewhere

ya rm15 is reasonable...my haircut more than rm 20 -.-"

By

abubu, at Saturday, December 1, 2007 at 12:28:00 AM GMT+8

----------------------------------------------------------

Walau.. I go to where Eric introduced 1.. RM14 ler.. Not as nice as urs.. I guess RM1 reallt can make a difference..

By

Ezekiel, at Monday, December 3, 2007 at 5:35:00 PM GMT+8

----------------------------------------------------------

ah choo~~!! someone talk bad about me..

By

Eric, at Wednesday, December 5, 2007 at 12:41:00 AM GMT+8

----------------------------------------------------------