Monday, October 8, 2007
Birthday Reflection
Short-talk:

One of the worst broken English sentences to be found is when you accidentally said "

I cook myself

" or worst to come when you said "

I eat myself

". Hmm.. How would it sound like when it is translated directly to Mandarin.
---------------------------------------------------




Time flies
, how true it is.
I have lived on this earth for nearly 19 years. Wow! Okay, what a short period it is, compares to Adam who lived 930 years.
As i was flipping through my photo album. Casting an eye over my childhood pictures.
Personally, I think that it is indeed worthwhile to take out some time and contemplate back upon the maturation and celebration that i have been through.
***Warning, the following pictures may contain some irresistible poses.**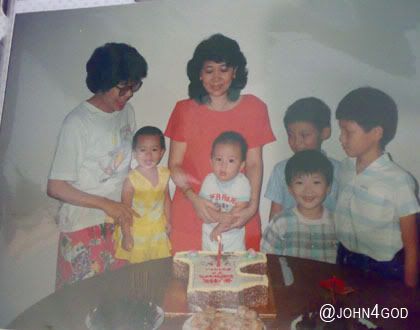 My One year old birthday. Together with my mum, my brother and my cousins.

My 3 year old Birthday. Wuahaha... Cute le ...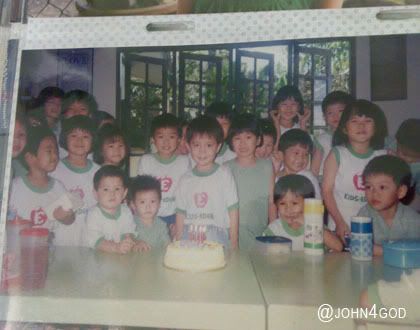 With my
kindy's
peers. Oh man, I looked so much like an Ang Mo.
And i was 12 years old. Mum decided to organize my first ever birthday celebration with my primary school friends after UPRS exam.
And it was grand. Can't believe that i still managed to give a "
cool
" pose! LOL. Okay, at that time i was just an innocent 12 years old little kid k.
And there it was. Me, together with my crazy peers. Gosshh, I never know that i was
that
short compare to the girls standing on the left side. Shorty Johnson. The food placed on the table does give me a drool now.
After 4 years and it was when i was in Form 4.
You better don't scoff at my look k especially the hairy dark mustache on my upper lip. I have tried to be more stylish. What to do, it used to be my vogue when i was 16.
Looked more like a 40 years old uncle celebrating.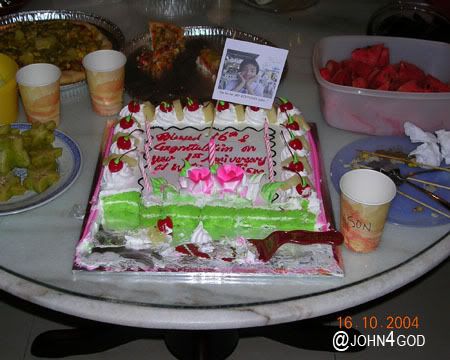 My 16th birthday cake.

A bunch of homogeneous Indonesian students composed a song entitled "I Love You" and presented it in front of me. Moving and privileged.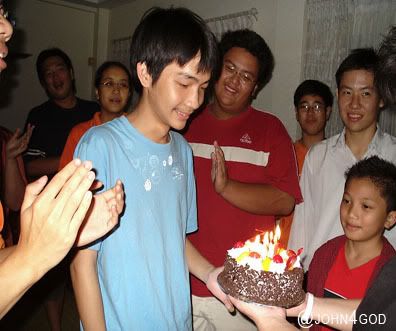 Stopping giggling at my innocent look.

And it was my
18th birthday
. And one of the birthday cakes that i received.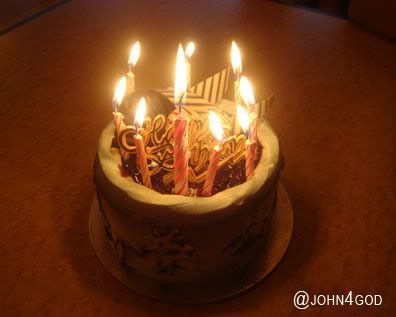 Chocolate, my favorite zest indeed. **hint hint hint**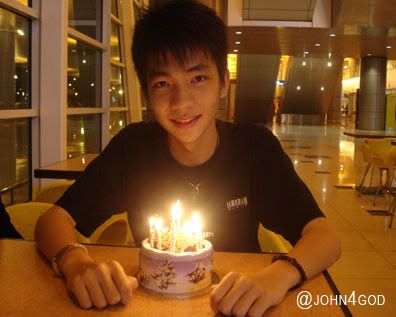 At least this snapshot did make me look younger and more presentable k.




Birthday Birthday Birthday. To me, each year of my birthday moment, i would definitely reflect upon how much have i grown not only in physical appearance of cause, but in my character, temperament and my maturity in the growth of faith.


My last teen's bash is coming very very soon in a couple more days! Hip hip hooray!


The clock is ticking perpetually. **cough cough 15h Oct cough cough***


Cheers!

Comments:
haha.....wat a funny post...
last time u really very cute le
especially the second picture...
haha..ya lo all reader dun forget his birthday oo...coming ar...this is his last time teen's birthday...hope u can enjoy and have a memorable...
ok la..hope u can have a best birthday that u never have and dun forget to take more pictures to keep as sweet memories...when u are old...:)
juz want to let u to know that u really change a lot...coz u know God more and more nowadays...so keep it up...
happy 19th birthday...
God Bless U :)
By

Tiong yienG, at Monday, October 8, 2007 at 12:21:00 AM GMT+8

----------------------------------------------------------

this ah yieng so fast already say happy 19th birthday...belum ba...yeah he look so funny ler

By

~K@cW3y~, at Monday, October 8, 2007 at 1:04:00 AM GMT+8

----------------------------------------------------------

y? ar ur kek getting smaller and smaller one?

By

S o.O n, at Monday, October 8, 2007 at 8:42:00 AM GMT+8

----------------------------------------------------------

Getting more tao over years! hehe. This yr more will make TnT drools! do post your bday celebration pics... even tho I forgot when it is.. lol

By

brenbrenda, at Monday, October 8, 2007 at 9:52:00 AM GMT+8

----------------------------------------------------------

Johnson, 12 years old you oledi know ho to pose the cool post. How come so many indonesian bro. and sis. in one of the picture? At that time they still stay beside your house right??

By

Yong Chye Lin, at Monday, October 8, 2007 at 10:25:00 AM GMT+8

----------------------------------------------------------

Johnson always has this "funny" look le...Now we know since 12 years old he knows how to pot all cool post... My but most fav of all the moustache photo! the moustache and the hairstyle really fits each other.... LOL


Eh 15 got special event mer??? hahaha I dunno bo * Sees around* LOL

By

Dwinz, at Monday, October 8, 2007 at 11:38:00 AM GMT+8

----------------------------------------------------------

eh u shud post this AFTER your birthday la -.-"

so takut no1 celebrate for u isit? =.="

By

abubu, at Monday, October 8, 2007 at 7:01:00 PM GMT+8

----------------------------------------------------------

Yalor... You getting older each year, but your birthday cake getting smaller.. So this year will get you the smallest of all.
You are so cute and handsome when you are 3 years old. Why human being cant just maintain their look ho. If can... then will be a handsome and cute Johnson. Not like now. Haiz...
LOL

By

pmp, at Monday, October 8, 2007 at 8:05:00 PM GMT+8

----------------------------------------------------------

Speechless... me no idea what to say either here well. Haha... it's too early for me to wish happy birthday but hehe... something would happen this coming days. Be prepared. Haha...

By

Melvin, at Monday, October 8, 2007 at 8:41:00 PM GMT+8

----------------------------------------------------------

Oh man... u reli ar... dun worry la.. i will remember ur b'day!!!! haha..

By

~Laura~, at Monday, October 8, 2007 at 10:40:00 PM GMT+8

----------------------------------------------------------

tiong yeing: HAha.. Thanks. But i wont count this birthday wish as the first ohh.. haha!

Keith: She tidak sabar eh..I look funny? Is it an insult or compliment le??

Soon: Welcome to blogsphere! Haha.. getting smaller and the ingredients and zest are nicer too! HAHa

Brenbrenda: Haha.. goshh, u have cause my nose to kembang! haha. U lupak my birthday date? ITs 2 month after urs la!!

Chye lin: What to do, at that time i know most of them liaw.. haha.. yea, most of them lived beside my house.

Dwinz: Haha... It did give me a laugh when i think back my cool pose. haha! 15th of Oct? Duno le.. but it's public holiday eh.. haha

abubu: **hint hint**

pmp: what la....

melvin: haha.. i roughly know what you guys wil going to attack me liaw.. haha! I will be alert and prepare to battle with the baboons! haha

By

Johnson, at Monday, October 8, 2007 at 10:46:00 PM GMT+8

----------------------------------------------------------

wwaaahhhh
getting more and more handsome
hahahahaha

By

April, at Tuesday, October 9, 2007 at 11:23:00 AM GMT+8

----------------------------------------------------------

the older you get, the more chimnology your english becomes.. sometimes, i need to read more than two dictionaries to understand your context.. =p

By

Eric, at Wednesday, October 10, 2007 at 8:20:00 PM GMT+8

----------------------------------------------------------

april: **shy shy**

Eric: no eh, i am trying my best to improve my ang mo ba, mr.perfect english! LOL!

By

Johnson, at Thursday, October 11, 2007 at 1:54:00 PM GMT+8

----------------------------------------------------------