Saturday, September 15, 2007
Nuffnang Reward
Short-talk:

Self-discipline seems to be one of my toughest strives that i have ever encountered.
-----------------------------------------

I'm back! Blogging blogging and blogging...
An online journal where most of the bloggers will view it as an hobby, so do I. Although I am a just a 7 month-old rookie in blogging, yet I do have the zeal in pouring out my experiences and thoughts through here. However, million thanks to
Nuffnang
, a blog advertising company that provides bloggers a break to "make online money".
Nuffnang
, what a comical and weird name it is, which means "
really cool
". Yea, it is super duper
cool
that i have
finally
earned my first income through advertising.
It was on Monday morning, mum told me that there was an envelope from HSBC bank awaiting for me to unwrap. **nervous nervous** Even my mum stood beside me to peer at me while i was opening it. Probably she thought that i have owed loads of loan from that bank. Who knows right?
Opened !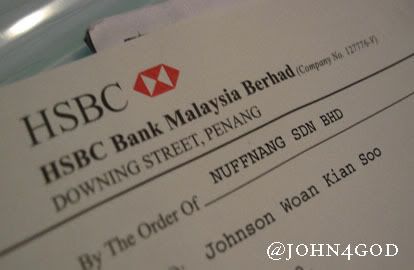 ##Taa Dang##...Guess it is not another hoax like the phone call which i believe most of you have received it at least once. Neh.... the Hong Kong's lady
with the same repeated lame script
declares that you have won some loteries or lucky draws de arr...
Okay, let's come back to our serious business. How much have i earned?
## Taa Dang##

RM 50.32 !!
This is a lot man. For student like me, i am able to earn effortless and blind money by just publishing their advertisements in my blog for 2 months.. This is super duper worthwhile
bah
. Perhaps, that's why the word "
Nuffnang
" appears.
Don't rob me please.
Comments:
Is that an investment? Y can't I get 1? Haha...
By

Anonymous, at Saturday, September 15, 2007 at 1:27:00 AM GMT+8

----------------------------------------------------------

No worries. No one will rob you because of RM50.32. So you are safe at the moment.

By

pmp, at Saturday, September 15, 2007 at 1:45:00 AM GMT+8

----------------------------------------------------------

My bday's coming soon...chia chiak....no no no....I won't rob u bro...but will just ask for the above....hiak hiak hiak.....

By

Mr. W, at Saturday, September 15, 2007 at 12:49:00 PM GMT+8

----------------------------------------------------------

melvin: You can earn those blind money too. just add nuffnang into your blog.

Pmp: phew.. im still in safe mode then~~

Mr. W: haha... your bday??.. haha. lupak wor..

By

Johnson, at Saturday, September 15, 2007 at 8:05:00 PM GMT+8

----------------------------------------------------------

hehe..
nt bad wor! haha.. got money then bila give me a treat? lol

By

Esther, at Saturday, September 15, 2007 at 11:40:00 PM GMT+8

----------------------------------------------------------

i wan kolo mee...wu kui....
belanja saya makan..haha

By

Tiong yienG, at Sunday, September 16, 2007 at 3:32:00 PM GMT+8

----------------------------------------------------------

johnson ar, you won't chia girls only right..?

By

Eric, at Sunday, September 16, 2007 at 8:23:00 PM GMT+8

----------------------------------------------------------

esther: u also minta arr..

tiong Yieng: Kolomee? Haha.. okok.. no prob. But i think i have never seen you makan kolomee ho..

Yurneric: Yea, besides girls, i will chia aunties lo.. so paiseh ho..

By

Johnson, at Sunday, September 16, 2007 at 8:34:00 PM GMT+8

----------------------------------------------------------

Wah!! SO nice!!! I wan kolomee also!! hehe..

By

brenbrenda, at Monday, September 17, 2007 at 9:34:00 AM GMT+8

----------------------------------------------------------

Yee....I'm starting to forget wat is 15 Oct all about liaw...hhmm...wonder wonder wonder......:D

By

Mr. W, at Monday, September 17, 2007 at 3:31:00 PM GMT+8

----------------------------------------------------------

brenbrenda: Singapore got kolomee le.. last year, i went to Vivo City, and i saw a cafe with its banner "Kuching Kolomee".. $6 man!! So expensive..~~

Mr. W: is it? than you should change your current calendar book. 15th oct is a public holiday too! haha

By

Johnson, at Monday, September 17, 2007 at 8:04:00 PM GMT+8

----------------------------------------------------------