Wednesday, August 22, 2007
Kampua Mee & Murtabak
Short-talk:


I am currently very busy with my studies. I'm trying my best to dig up a little portion of my time to keep my blog alive,

unlike

Aldrin's.
I have planned to change my blog's templates too. So busy busy.
Finally! I managed to get a snapshot of the food that i'm longing to post'em up!
A well-liked cafe that most of the Kuchingites would prefer to go for supper. Located at
Jalan Song,
Expert

.
More food ! Yum ! Yum!
Two of the best appetizing food to recommend :
1)
Kampua Mee
The cook has definitely trying his best to maintain the authentic taste of what Kampua Mee should actually taste like. Qualified ! Unlike some other stalls, that has twisted KamPua Mee into Oily Mee.
All the way from sibu. Make sure that the person that cooks the mee is an old man, not those unskilled teens, his children yea.
2)
Murtabak!
A kind of Indian food which is
easily
made of with a piece of Roti Kosong stuffed with corned beef.
It costs only RM2.50 !!! It is not
cheap
but
overly cheap
man! From left right to centre in Kuching, all you can find is a piece of Murtabak that costs you around Rm 4.50.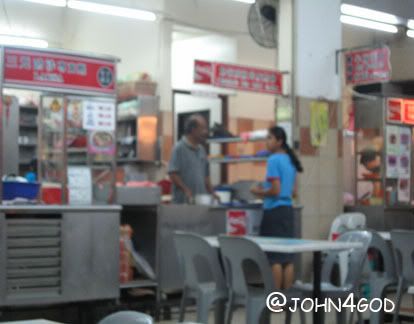 Daughter was helping his father without any complaint. Respect!
Yummy, Yummy Yummy!! Both stalls are available until 12am daily. Get yourself there and you will thank me like mad.
## Vision without Action is a mere dream,
Action without Vision is just a passing by time. ##
Comments:
i like the kampua...but i like the murtabak..sayang i cant eat beef...
By

ivy, at Wednesday, August 22, 2007 at 10:36:00 AM GMT+8

----------------------------------------------------------

I havent try d murtabak yet.. Must try it some day.. After eating the Kampua for some time, I suddenly felt that it is actually quite expensive.. RM2.50 bor.. It is relatively cheap there but if you compare it to other Kolo Mee stall except the one in Sarbekas.. It's quite expensive.. It only make it look a lot because of small plate.. Nice marketing tactics..

By

Ezekiel, at Wednesday, August 22, 2007 at 7:00:00 PM GMT+8

----------------------------------------------------------

u havent tasted the kampua mee at chopstick food court in pending ar. after u eat that i think u will spit out the kampua mee from jalan song. lol...

the murtabak ayam nice tho..very amazingly cheap ba...lol

By

abubu, at Wednesday, August 22, 2007 at 8:12:00 PM GMT+8

----------------------------------------------------------

For me, the kampua biasa aje.. But the murtabak is really good lar.

I remember sometime ago, I recommended to you the exact same murtabak, but you will NEVER try it. Then you only try it when the kampua stall tak buka. Ces~

By

saykhia, at Thursday, August 23, 2007 at 8:56:00 AM GMT+8

----------------------------------------------------------

ivy: kesian, the beef so tasty ba.. nvm , u can try pork version.

ezekiel: itu kampua me.. bukan kolomee. Mana dapat compare. Try out the murtabak!

abubu: chopstick? where is it? Bawa me!! haha.. RM4.50 for murtabak biasa equal to buying rm2.50 murtabak and a plate of kampua! haha

Saykhia: aiseh.. at least i try out le.. unlike the one in saberkas, they put "bak cho" instead of beef~~~

By

Johnson, at Thursday, August 23, 2007 at 12:35:00 PM GMT+8

----------------------------------------------------------

yup.. it is original foochow prepared kampua mee..another suggestion a cafe at pending facing d roundabout named "chopstick"cafe oso got kampua mee..self-made mee oo..original recipe..hmm..yummy..hahax..

By

siew yong, at Saturday, August 25, 2007 at 12:19:00 AM GMT+8

----------------------------------------------------------

hoho...but i prefer sibu's kampua...haha...actually this stall oso come from sibu...but the taste is different.
i haven try the murtabak...saw u ppl eat like really very nice...how nice ho? haha...and u ppl oso say very cheap bo...if got chance i want to try it...hehe

By

Tiong yienG, at Saturday, August 25, 2007 at 2:14:00 PM GMT+8

----------------------------------------------------------

siew yong: "chopstick" cafe again~~ okay, i wana set myself to try out that dish liaw..

tiong yieng: haiyo, mana dapat compete with sibu's??? try out the beef one..

By

Johnson, at Saturday, August 25, 2007 at 4:19:00 PM GMT+8

----------------------------------------------------------

this is my 579th comment for you..your welcome

By

Blank, at Sunday, August 26, 2007 at 10:24:00 PM GMT+8

----------------------------------------------------------

Hi Johnson,

Thanks for leaving a comment in my post Guestbook for your blog. I have responded to your comment.

Peter (Blog*Star)
Generating Revenue from your Website

By

Peter Chen, at Sunday, August 26, 2007 at 11:53:00 PM GMT+8

----------------------------------------------------------

Hhmm...not very kind of u to post up this topic during the fasting time...now u got me all HUNGRY!!!!!!!!!! Haha...always eat the kampua when I'm there at this shop coz find nothing else to eat...but always the young guy cook leh...never knew got such cheap nice murtabak there...must try when I go there next time...heheh...thanks for introducing....YUmmyy...hungry...ststarving...hiak hiak...

By

Mr. W, at Tuesday, August 28, 2007 at 1:44:00 PM GMT+8

----------------------------------------------------------

Hhmm...not very kind of u to post up this topic during the fasting time...now u got me all HUNGRY!!!!!!!!!! Haha...always eat the kampua when I'm there at this shop coz find nothing else to eat...but always the young guy cook leh...never knew got such cheap nice murtabak there...must try when I go there next time...heheh...thanks for introducing....YUmmyy...hungry...ststarving...hiak hiak...

By

Mr. W, at Tuesday, August 28, 2007 at 1:47:00 PM GMT+8

----------------------------------------------------------