Thursday, August 16, 2007
Kuching Festival 2007
1) Finally i can use Adobe Photoshop to adjust my preferable photo size, instead of uploading them through blogspot that has shrunk my superb pictures.
2) I saw
Kenny sia
again !!! I was having supper with my friend at Jalan Song, Expert. And out of the blue, my friend exclaimed, "

Kenny sia

!", and I tuned my head to the back and i saw kenny and his girlfriend,
Samantha Poh
.
And this was the sickening frustration, I don't have a cam with me!! Arr.. desperately searching for one at the instance. Another opportunity slipped pass me. One little gossip,
*************************
The month of August for us, Kuchingnites is certainly one of the most eventful month throughout the whole year. With the combination of Kuching City Day Parade, Kuching Festival, National Day and so on.

However, Kuching Festival itself has already drawn thousands of people. It starts on 29th July and ends on 19th August. This post is specially dedicated to those outstation readers. An event that Kuching can boast about.

**Attention to all food junkies, do allow me to lure you greatly with heaps of irresistable photos. So to stay out of danger, keep your mouth close always while you are reading. Your co-operation is highly appreciated.


Entering into Kuching Festival Fair 2007.
In my first visit, I brought along my Canon camera. After taking a few pictures of the stalls, i was kinda embarrassed when i noticed that many people were staring at me. So disgraceful ba. So I decided to stop taking pictures and continue to hunt for food. However, I spotted this ...
A lady with her big bulky Nikon cam. Taking photo in front of the public!! Brave brave!
Hmm.. a blogger too?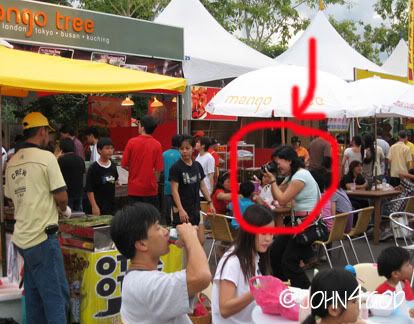 And then, she lagi
keng
.. Asked those Indian workers to pose !! Hence, I were not going to leave off for taking photos in front of the public.
Mission revived and continued
!
The one and only international booth to be found. All the way from Thailand. No doubt that they sell delicious fast food. But, one thing that is still lacking in this booth is no Thai workers can be found there. Weird. Clash clash...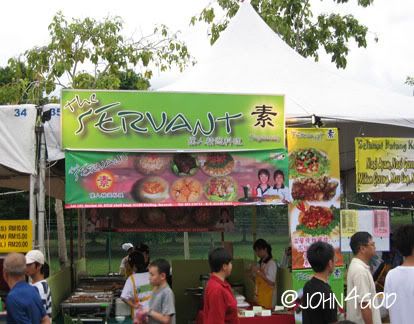 The Servant.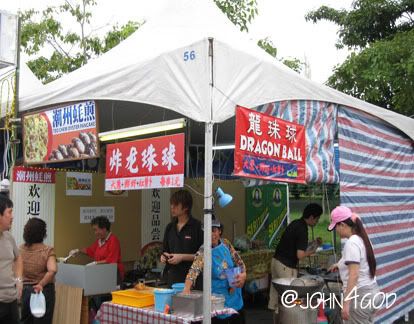 Dragon Ball's stall
. No comment...
Babaganoush.
Not sure what language is that.


And there you have ....
King's Ice-Cream
!! However, making known itself as the
King
of "Ice-cream" does require guts. Unfortunately, it is still unable to beat our "
Fried Ice Cream Bun
". Shame Shame..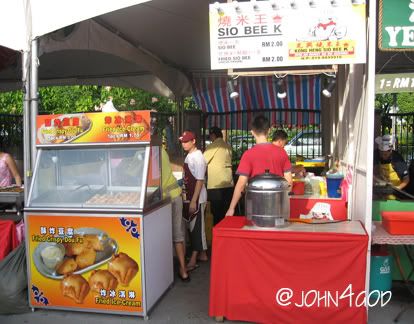 The stall on your left. Fried Ice-Cream Bun.


Loads of Fried Ice-Cream Buns.



Untill now, I have no idea how did they manage to retain and avoid the melt of the ice-cream inside by deep frying the outer crispy bun. Someone please tell me this secret, and i promise to chia you only
one
ice-cream bun. LOL !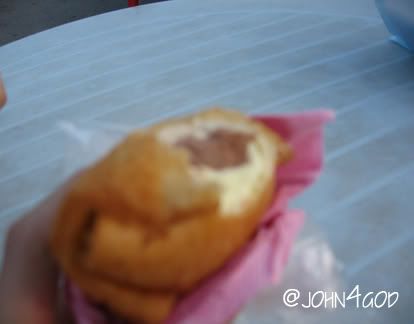 Rm 1.70 for each. The price raised 20 sen this year, but still quite reasonable.
And whenever there is business occured, there will definitely mini warfare occured. None other than
PEPSI
vs.
Coca-cola
. Take a look.
On the west island, you will have PEPSI.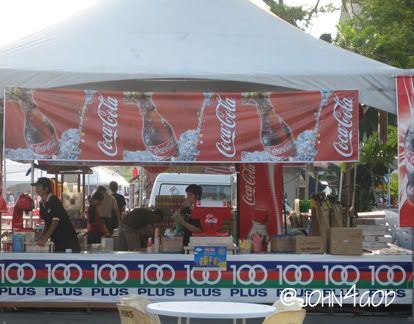 And on the East island, you will have
Coke
. Coca-cola manages to obtain help from 100 PLUS. Okay, lame.
Moving on .....

I-Chi-Ban

's booth. Probably what they are trying to bring out is "Yi Zhi Pang" in English it's known as "

Excellent

". Bravo !
I haven't get to chance to taste on this food. It looks rather than just another thick chicken pie. Mixed with prawn, eggs and don't know liaw...


Another war arises!
Taiwan's Sausages !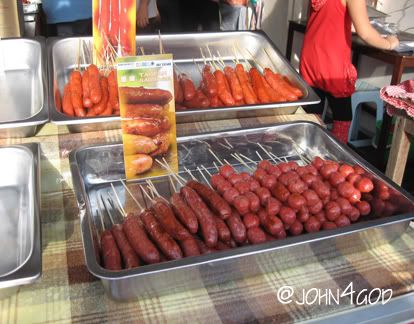 Look kinda tasty. But is stil not my preference.
And here's the
real
Sausage booth that I am convinced.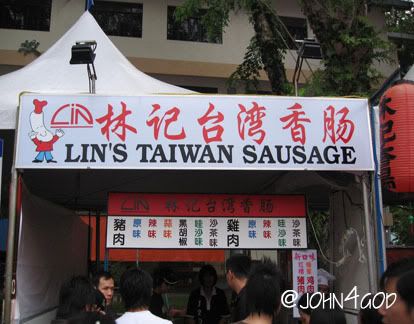 It provides more choices in terms of flavour for the buyers. Good marketing strategy.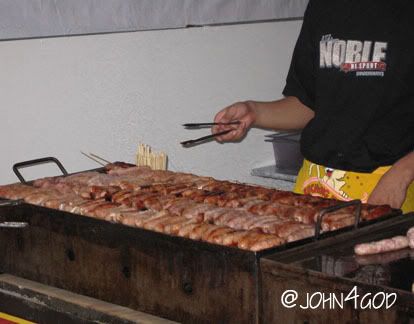 A little advice:
When it comes to eating sausages, one thing that you
shouldn't
mull over is the ingredients that has stuffed inside the sausages. Just eat it.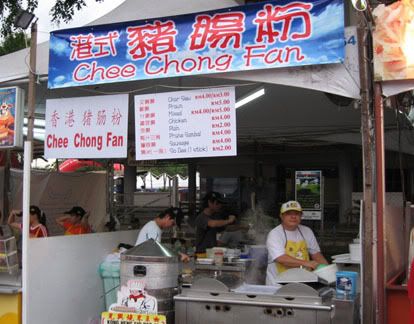 One of my favourite Hong Kong dishes,"
Chee Chong F
an
". I have no idea how do they make those thin and transparent skins with the help of just a piece of clothe. Suspicious !
Chee Chong Fan master is showing off his skills. Do you guys know that in Cantonese,
Chee Chong
actually means
Pig Intestines
? With the complete version, you will have "
Pig Intestines having Fun
". Gross! Moreover, "
The thinner the skin is made, the nicer it tastes
". This is what i heard
la
...
The sample.
**If you can't resist, feel free to lick your monitor screen. **
Suddenly.... **Boom**
Kentuckey Fried Chicken
. Frankly speaking, I would feel that it's kinda foolish to come all the way here just to eat KFC's chicken.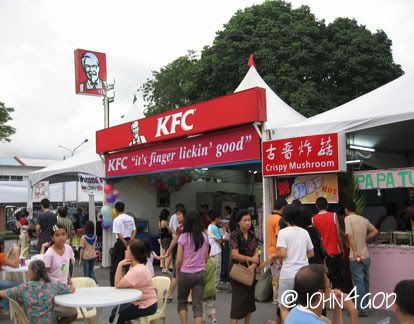 But still, people are tempted.
The guy in Orange shirt tried to pose.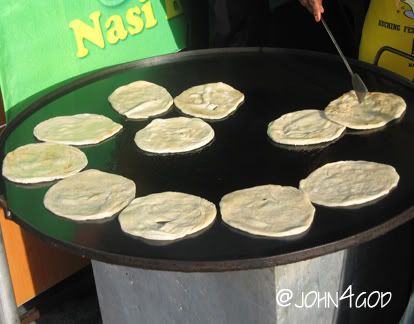 Hygiene has taken into account too. Normally, Indian workers will use their naked hands to flip around those Roti. However, nowadays they start to use Kuali spoon~~~

And then you have...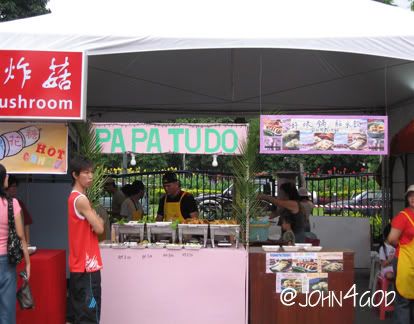 This stall did bring me to a laugh.
Pa Pa Tu Do
??? For those who ever go to 3rd Mile Central Park, you will definitely know why it's laughable!
And then we have one of the cheapest food,
Salad Yew Tiaw
.
Yew Tiaw stuffed with salad inside.

And here you have!

LOK-LOK

! Oh man, this is too much. Imagain if you have all of that for you dinner, you will definitely ended up like an elephant. Okay, Lame again.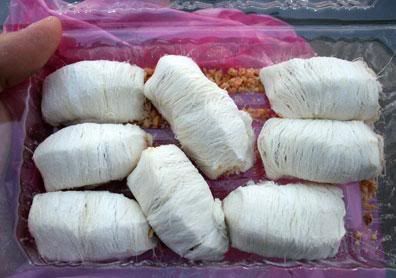 And you have this, known as Cacoon. This is rather unique. Instead of having caterpillar inside, they stuff peanuts inside. Honeyed! eSeriously, this cacoons are super sweet! For those who have Diabetes, paiseh le...
Little interlude. Who says there is no sits in Kuching Fest.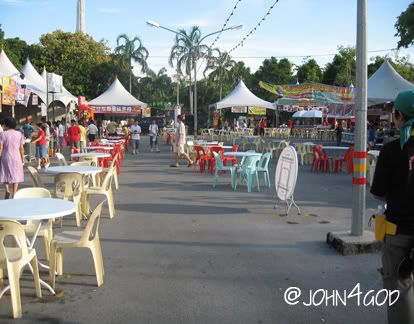 Plenty of sits ba..




More more !!


Back.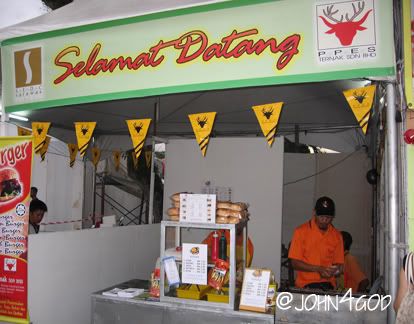 From a distance, it looks like just another ordinary burger stall. But when you bring your eyes closer ....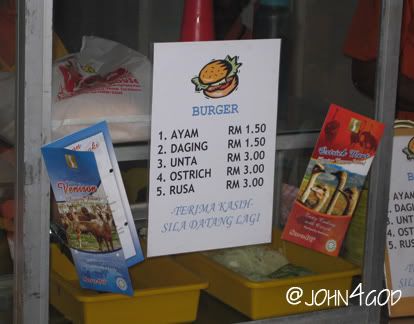 Unta aka. Camel. Ostrich aka. Ostrich. Rusa aka. Deer. You might not know that even if you ordered Unta burger, instead of using the real Unta's meat, they might use Chicken's.
For those who still wonder how does Ostrich look like, i purposely prepare the photo specially for you.
A botak bird with a long neck.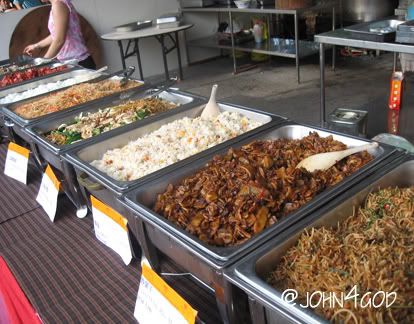 Fast food.
And you have Suan sour Chicken Rice. If you want to sell Chicken Rice in such event, little marketing tricks are needed. So, guess this booth has came out by pranking customers in adding "Suan" in front. Cool ba.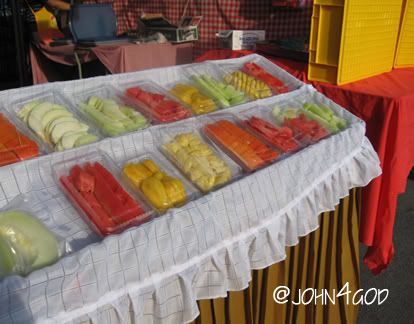 The most vitamin-minded booth of all!



A mini stall that sells Otak-Otak,
in English, it's known Brain-Brain.
I have tried once, and i promise there will be no more second try.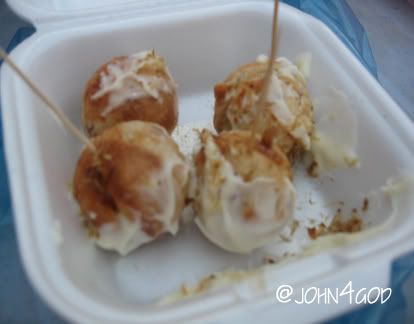 Not sure what it's called. But it's quite pricey.
A short commercial break. For those who is having a hard time to control yourself, feel free to bite your own tongue.
The left stall,

Uncle BOB

is no longer the main magnetism compares to last year. On the right side, it sells one of the most expensive food,

Omellete aka. "Ohh Jian

".


Kinda pricey. RM 8 per plate. It is fried with eggs and oysters.


After 30 seconds...
Everyone wolfs down it into pieces.


Another 20 seconds ...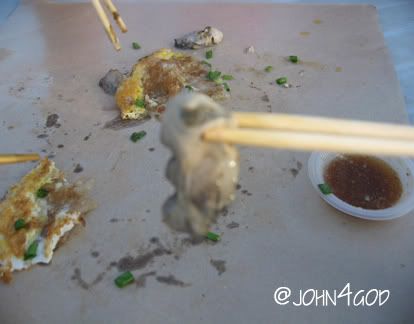 My last Oyster bite. Fresh and tasty! Yummy!
SIO-BEE !!
Warm and savoury Sio-Bee. Those black spots are actually sesame seeds sprinkled on top. Imagine if there are

Black Pepper Sio-Bee

. Oh man ! **Drool**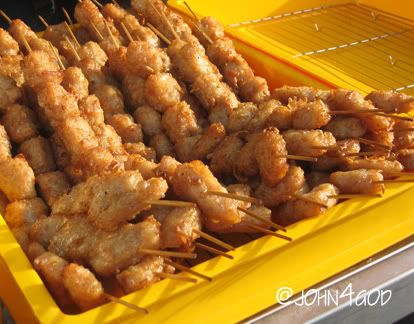 Deep Fried Sio-Bee. One of my favourite!

**Slurping and wiping remaining saliva drooling out from my mouth** Yum Yum !!
Now, allow me to declare to you the
Title-holder for the Food Fair
. Ladies and gentlemen... **little drum rolls **
Fried Bird & Roasted Bird !!
There are two forceful competition between Fried Bird and Roasted Bird. Nonetheless, i would still prefer Fried bird. More tasty and heavenly.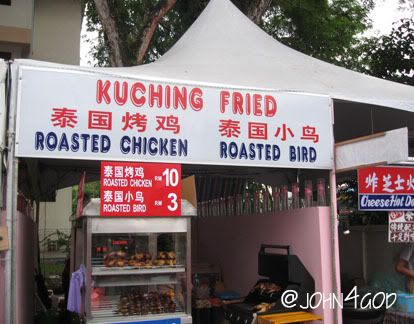 Worth to buy. Rm3 each.



Roasted perfectly and waiting to be wolfed down!



Some people says it's merciless to eat those little innocent birds. Oh man.. everyone eat those big and fatty chickens, and shouldn't it also be unsympathetic towards those innocent chickens.. Pity pity ..
My first Roasted Bird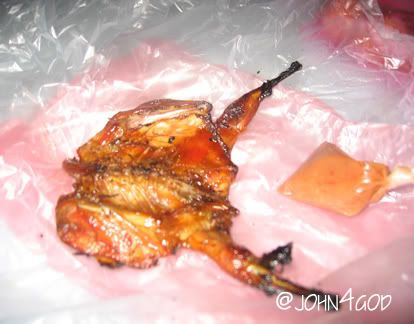 Please don't say that i'm Mr. Barbarous k. Eating bird is not a sin. I am just another ordinary voracious guy ba.


More birds ..!! Mouth-watering !!
Thumbs up !


I conquered 7 Fried Birds only. Not satisfied. Therefore, my haunting mission will extend to this coming Saturday evening. Catch me if you found me and i will treat you a Roasted Bird not again~.



For those Kuchingnites who are currently stay overseas, you will definitely miss Kuching's food don't you? **evil laugh** This is just 60% of the food stalls. 5 more days before it ends. Bring yourself there AGAIN!
A Comfy Paradise.
Comments:
yo...wat a nice post...so many nice food and make me hunry ar....hehe...i just kill one bird nia and just go there one time nia. i like the ice-cream bun and the wat caterpiller ..haha... u oledi kill too much bird liao..murderer...and it was so ..kesian that didt get the photo of Kenny sia. if u buy ur N73 more early then today u got chance to take the pic lia..hehe..ok la..this saturday if i can go Kuching festival is my last time for this year and oso the second times haha...air liur come out naw...haha..GBU
By

Tiong yienG, at Thursday, August 16, 2007 at 1:29:00 AM GMT+8

----------------------------------------------------------

hey dude~~ i like the la chang also.. the stall provides lots of flavour and i like black pepper .. hiak hiak! i just went last night with my dear dear and u know wat? i saw our marketing officer, vivian liaw and her boy friend, . guess who! oh my god, i just cant believe my eye! he is the lab conductor - mr. sia! once they saw me and Ian them, they quickly seperate the hand..

By

QQ, at Thursday, August 16, 2007 at 9:12:00 AM GMT+8

----------------------------------------------------------

hey John. not very biblical of you to comment so freely upon our God's creation. Forget not the scriptures. i'm proud to be a Roman Catholic. i do hope that you won't continue doing what contrasts the title of your blog "Purpose-Driven-Youth".


"Do unto others as you would have them do unto you." — Jesus (c. 5 B.C. - A.D. 32 ) in the Gospels, Matthew 7:12, Matthew 22:39, Luke 6:31, Luke 10:27

fyi i'm 5'4 and i love shoes ;) do come up and say hello instead next time? hmm i suggest u owe kenny a sincere apology and i request for u to alter ur entry.

please and thank you,

Samantha Poh

By

Anonymous, at Thursday, August 16, 2007 at 11:19:00 AM GMT+8

----------------------------------------------------------

*Note to self* Never EVER come here again before eating.

By

Sam, at Thursday, August 16, 2007 at 2:15:00 PM GMT+8

----------------------------------------------------------

tiong yieng: haha, should bring you and makan more birds! LOL! In sibu, you can hardly find that!

QQ: Yeap. Can't believe that my prediction was pretty accurate. Both of them curi curi pak toh in office le.. haha..

Samantha: Oppss, conflict arised ??!

Sam: hey pal! Welcome! Haha.. i was slurping madly when i edit my post! Imagaine it! Hahaha..

By

Johnson, at Thursday, August 16, 2007 at 2:57:00 PM GMT+8

----------------------------------------------------------

DANGGGGG!!!!
IT's definitely not the RIGHT timing to read your blog. WALAHMAK u know due to my laziness and tiredness I chose to have MEE CUP AS MY DINNER!
Feeling satisfied with the Korean mee cup that I'm eating........ I read your blog bout KCH FEST!!!
U'RE TORTURING ME LERHHHHHHHH...
*LOOKING AT MY MEE CUP >>>> SIGH*

By

brenbrenda, at Thursday, August 16, 2007 at 7:19:00 PM GMT+8

----------------------------------------------------------

nice post... ur evil..

By

dmr, at Friday, August 17, 2007 at 12:43:00 PM GMT+8

----------------------------------------------------------

kek si me...u ar..ppl in KL miss the food here..kek si me lo..arghhh.......

By

cheryl, at Friday, August 17, 2007 at 1:25:00 PM GMT+8

----------------------------------------------------------

brenbrenda: haha.. then next time before you view, make sure you make full full 1st lo.. haha. Eating mee cup is definitely a wise choice to save up money, but going to Kuching fest would be much more better and heavenly! haha. Wonder if Singapore has "singapore festival".

dmr: haha! I'm kind enough to "Share" those picture with you man! haha..!!

Cheryl: Malangnya that KL doesn't have such festa. nvm nvm, u can print out those food. LOL

By

Johnson, at Friday, August 17, 2007 at 3:23:00 PM GMT+8

----------------------------------------------------------

wa..i missed it le... anyway..thanks 4 ur post..at least i can SEE the foods there although i cant TASTE them..haha

By

chris, at Saturday, August 25, 2007 at 4:05:00 PM GMT+8

----------------------------------------------------------