Tuesday, September 4, 2007
The Result
Finally!
The moment that everyone is waiting restlessness for.
**little drum rolls**.
The declaration of the final result for Kuching City Day Parade 2007 !! For those who consistently read my updates, you are at the right track! On the other
leg
hand, for those who scarcely ever bounce in my blog,
click here
to comprehend those episodes!
Basically, i am going to write about my witness of the entire programme. Interasting!
1st September 2007.


A few of us were invited to attend the Prize-giving Ceremony at Taman Budaya. Dr. Chua picked me up. A little reminder: DBKU management told us to arrive around 7pm.

Reached at 7.30pm. 5 of us walked towards the VIP seats. However, we were told by the security that only one representative from each contingents was allowed to sit at the VIP seat and the rest will sit at the other corner public seats. After a short discussion of who will be the blessed onerepresentative, and I was chosen!
Reason: Dr. Chua wore slippers. ~



That was my so called,
VIP seat.
At first, I presumed that the VIP seat should be something like
sitting on a big roomy leather chair with some mates around you.
However, plastic chair pulak. ~~
That's my school!

I waited alone at my VIP seat. B-O-R-I-N-G.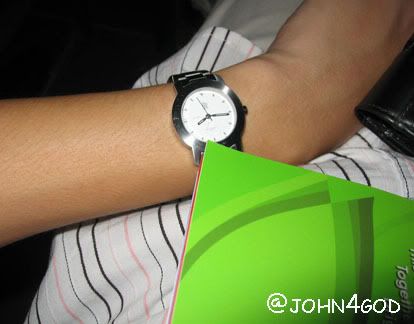 And it was 8:15pm ! I thought it was supposed to start at 7.30pm? Huh? Nevermind, "Patience is a virtue". At least, they did provide me a booklet to fritter away my time wisely.
As i was flipping through the booklet, guess what have I came across to that stunned me for a few second!!! A couple sentences that perturbed my thinking. Erghhh... Here it is.

See those highlighted words? The winners for the parade have actually printed right inside of the booklet! What.. Erghh.... Where is the Persembahan Tong Sampah?!!?? Means that we won "nothing". Nevermind, Johnson don't get dishearten. Hang on and keep waiting for the arrival of the YB.

8.30pm. Waited aimlessly for an hour.
Sit tight ..
And there it goes, 8.45pm. Seriously, i was so chessed off of waiting alone ba.. Sitting at the so called VIP SEAT doing nothing. No entertainment at all!
While i was busy peeking around the surrounding, all of a sudden, something grasped my attention, which was .......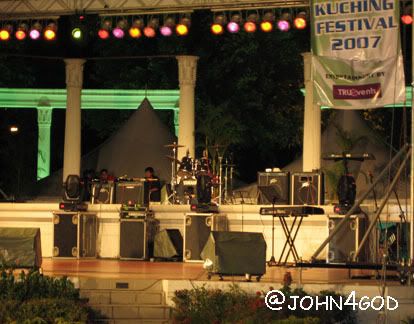 Yesh! Full instruments on stage! Hoping to see some live band performance. At least.
It was almost 9pm and the YBs finally showed up in fornt of the public. Everyone waited wasted 2 and half hour. Sometimes, i do wonder why those Datuks and YBs always come late for every meetings. Are they not informed for the proper time? Hmm...
I reckon back what Mr. Ooi have mentioned, "Your punctuality shows your professionality." How true it is. Based on the theory given by Mr. Ooi, we can conclude that ...(fill in the blank)


I had no idea what was this Datuk's name.

And here you have, the Unbent Backbone armies.
Kuching Festival's flag was retrieved.




Handed the flag to the YB. Wong Soon Koh.
The event was kicked off by two funny MCs.
And moving on, we got all of the bodybuilders. Undoubtedly strong and so called macho! The MC named them as "Mr. Badan Besi." If i were the MC, I would call them "Mr. Durian" instead. Just look at their 6 packs. Gosh.. It looks exactly like the durian's seeds.

If i were not mistaken, the guy in the middle was Dennis.
Showing off their bricks beefy bodies.
I recorded some of the clips just for the sake of those who have never seen half naked guys bodybuilders. Enjoy watching.

How i wish i have those bricks' muscles. Johnson with six packs. Can you imagine? Can you can you?? Cannot? Don't worry, i have prepared a picture specially for my readers.
Aiseh man!
And then you have the Kumpulan Soprano.


Both of them were from Sons Choir.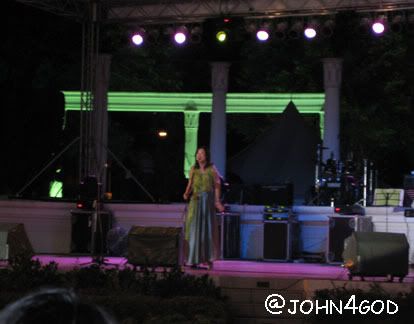 Stupendous! Their high pitch voice were simply amazing. Unbeatable! I thought that the night would be filled with euphonious music, however I was totally wrong when the next live band performed.
Live Band Performance by DBKU.

First performance by a lady. It was just another mediocre performance to me. Unlike the next rock singer, his voice was simply incomparable and unique. Trust me, you will get a shock of your life.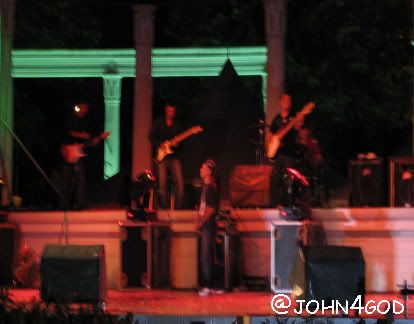 Increase your speaker volumn and enjoy this "

Rock

" music.
I never know "Rock" style music goes like that.~~~ Probably he had forgotten his lyrics, and simply shouted in words?
And you have the
hiphop dancers
.
I couldn't really latch on to what were they mumbling rapping. Another band that forget their lyrics, i guess. Anyway, this staging was then turned into an amusement moment when the rappers invited some hantu (means ghost). Yea.. real hantu ... No play play de.. However, in lieu of getting afraid of those hantu, I would rate the whole performance was rather an entertaining circus!
Watch it. Trust me, you will admire those hantu alot.
Speechless? Haha... Bravo bravo. Our Kuchingites' hantu are all talented indeed!
Best costume. (Picture below)
And last but not least, the top 3 performers.

The 2nd Runner-Up.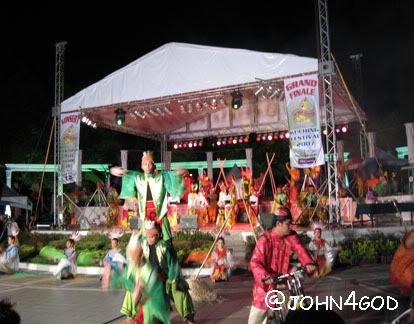 Not really sure they were from what school.
The 1st runner-Up


They even hired General Hospital's nurses and doctors.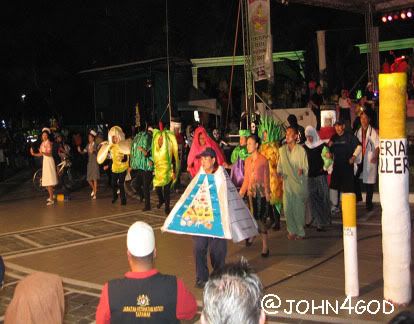 Take note of those fruits behind it. Okay, i got to admit that it was creative.
See those hantu again? LOL !
The longest and biggest cigarette that i have ever seen in my whole life!! Probably should record it in Ripley's Believe It Onot.
And there it is,
Kuching City Day Parade 2007's winner, UiTM.


The Champion's performance.



And junkers didn't win any prizes. Not even the consolations. Say bye bye to my Rm10,000. Perhaps their performance were way better than ours. Nevermind, gonna improve.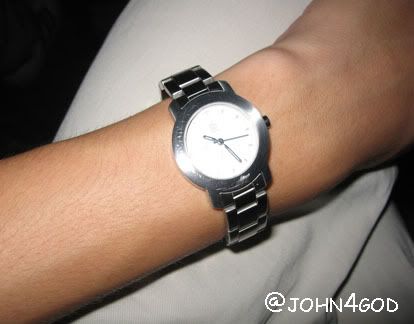 At least I get a chance to be on stage to get the participant's appreciation. Hehe.


We didn't win any prizes. But at least we represented Swinburne to achieve this certificate.




The End.


Short interview with the junker's leader:
Reporter: "How do you feel when you know that the junkers did not win any prizes?"
Me: " Definitely I do feel a bit of *sigh*. But most of all, I feel rejoicing and grateful because every junkers did their best in supporting and winning the audience's attraction during the parade."
Reporter: "Erm ... then what's your next chapter for the newly formed junkers' group?"
Me: "Good question. Don't worry, this group will soon be revived again. I'm looking forward for next performance if we have this privilege again."


~*Unforgettable memories.*~
All glory to Him.
Comments:
Well... at least the junkers did their best. I'm glad and THANK GOD it's over. We'll work harder for the future
By

Melvin, at Tuesday, September 4, 2007 at 1:02:00 AM GMT+8

----------------------------------------------------------

haha.. u must have admired the body-builders a lot huh? U have to drink tanks of pig oil to get that size, Mr skeleton. lol!

By

brenbrenda, at Tuesday, September 4, 2007 at 1:16:00 AM GMT+8

----------------------------------------------------------

Great job Junkers. Indeed you guys had done a great job. Eventhough junkers didn't win anything, but at least you guys enjoyed the process learning the beat and the hitting the tong also. And most importantly is that you enjoyed yourself too. Well done.

Can see that Johnson is really boring sitting there alone.... Can't do anything but just waiting and waiting....

I wonder how come got 'Mr Badan Besi'? How does it relate to the whole night?

And Johnson can join them, but Johnson is 'Mr Tulang'.

By

pmp, at Tuesday, September 4, 2007 at 1:18:00 AM GMT+8

----------------------------------------------------------

After really look at every video and the PHOTO, I just can't help but laugh non stop.

By

pmp, at Tuesday, September 4, 2007 at 2:07:00 AM GMT+8

----------------------------------------------------------

i cannot believe we are beaten by those puppets bah.. or maybe the judges takut the size..

By

Eric, at Tuesday, September 4, 2007 at 2:48:00 AM GMT+8

----------------------------------------------------------

Aiseh...... Johnson, if one day your body look like that i really cant imagine how i going to accept you le. That is too much lor. Haha........ You better eat more now then get a bit fatter then ok lor!!! Hahahahahahha................ (cant stop laughing).

By

Yong Chye Lin, at Tuesday, September 4, 2007 at 10:09:00 AM GMT+8

----------------------------------------------------------

melvin: Yeaps. thanks.

Brenbrenda: Hahaha.. you can donate some meats to me le.. Good idea?

Pmp: The badan besi thingy was the opening ceremony. Probably they wana me to have that kinda of shape in future. **Bricks**

Eric: probably one of the judges was the designer ba..

Chye lin: aiseh man, means i cannot have that macho body la. cas you will not going to recognise me.. Wait for 5 more years.

By

Johnson, at Tuesday, September 4, 2007 at 3:00:00 PM GMT+8

----------------------------------------------------------

hmmm..johnson,nice body ha..and that mr.hantu..wahliu..so funny leh..the the "rock" band..i feel like throwing them durian!!it's so horrible...

By

cheryl, at Tuesday, September 4, 2007 at 7:10:00 PM GMT+8

----------------------------------------------------------

Lie!!No reporter interview u at all...once finish already run away with us liao...And you wont be the muscle man...cos look at u man!so thin and no muscle at all..hahahaha..

Anyway, Great Job Junkers for doing the best...Rock on!!

By

JuDiEtH, at Wednesday, September 5, 2007 at 10:55:00 AM GMT+8

----------------------------------------------------------

hee:) this is an interesting post! I enjoyed the pictures and videos..
Keep it up yea!! it has been a well done event..Thumbs up(",)

By

Esther, at Wednesday, September 5, 2007 at 8:13:00 PM GMT+8

----------------------------------------------------------

cheryl: haha.. yeyae, the hantu, i think i should call them as "clown" ba.. haha! the rock music, erm.. should call it noise instead.. haha

Judeith: thanks!

Esther: hey! Thanks thanks.

By

Johnson, at Wednesday, September 5, 2007 at 11:33:00 PM GMT+8

----------------------------------------------------------