Wednesday, November 21, 2007
Junkers, the Marching Band?
Short-talk:

Which animal is actually the richest creature of all? And why?


**Clue: It has two eyes.**

For those who is the first to answer it correctly in my comment box or chat box, i will treat you a cup of Teh-C-Peng.
--------------------------------------------------------

Miss my blogging??? **Evil laugh**

Last Sunday, I was chanced to flip through St Thomas's recent newsletter. Skimming over the contents inside as usual.

Lo and behold, I ter-see this..


##Tada##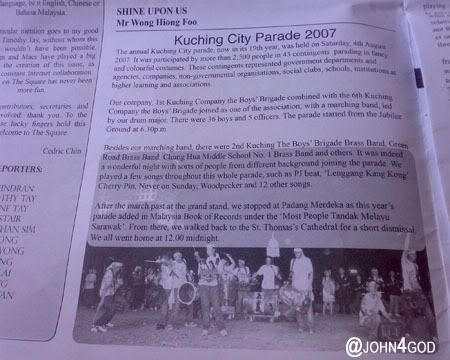 Hmmm ...

I never know that our junker's clique is so blessed to be chosen as the sparkling Upmh for this Kuching City Day parade's article. Not bad not bad. **clap hands** Reading through the contents given, it basically talks about 1st Kuching Boy's Brigade Marching Band. Which means there's nothing to do with the junkers right? But why ..... ????
Don't tell me The Junkers is now officially categorized as part of the marching band???
Oh NO!!!!!
Comments: