Monday, January 5, 2009
My 2008 recapitulation
short-talk:
I just bought a cheap pelak laptop cooler fan that worths Rm9.90. Should i say myself smart or stupiak? arr...
------------------------------------------------------

It is already the fourth day of 2009. Everything seems so refreshing.
Without much consciousness, I am
unofficially
21 years old now, which is, of course, utterly unacceptable. As claimed by many of you, based on my *cough* young and *cough* energetic look plus vibrant character, i should be 17 years old. Forever 17. Yea!
Here you go, my very first post for 2009, entitled "
My 2008 recapitulation
". I will condense my most memorable and significant occurrences into ten points. Some really awesome things that I have encountered, which i would consider it of worth!
Enjoy reading!
(1)
Working as a part timer in Kenny Rogers Roaster.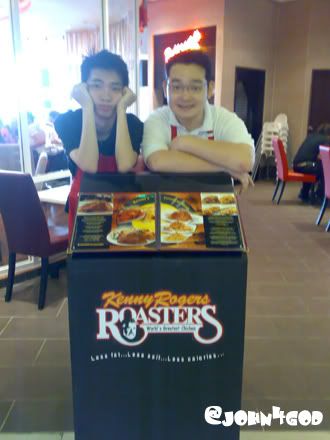 It was in January while i was still having my mushroom holiday. Working in KRR was my first ever part time job. Prior to this, i have never gotten myself into any part time job application before. I will never forget how i actually obtained this job **it was so easy** and the appreciable experience i have gained in this job.
Speaking about KRR, i couldn't say much but just be so so grateful for the one and a half month of working in there. When you are exposed to the working world, especially doing serving, hosting, cleaning in such places, rather than sitting around in the office, trust me, you will really learn like mad.
Words could not describe the whole picture of what i have gone through there. The indescribable episode i have captured, the great colleague i have met, everything. It was just so meaningful!
Thanks Keith for being my buddy mate during those period of working. Miss the roasted chicken? =P
(2)
Bought my first electric guitar


Playing musical instruments is always one of my passions. It is no doubt one thing that i really delight in doing since young. Before buying this guitar, I always yearn to get myself an electric guitar. With my own saving of course.
And yes! I did it in 2008, around April.
"Let all strings resound in praise".
(3)
Got my first car!


Shocking shocking!!! Until now, I am still thanking my parents for this HUGE and surprised gift. Really. I could have never imagined of my parents buying me a car. Who could have anticipated that? What more to say, I am not allowed to drive parents' vehicles for the first two years when i have my driving license and out of the sudden ...
#tada#

It was like a wedding vow.
.. dad and mum bless me with a brand new car. Certainly, I will still and always take good care of her.
Even though i have only bathed her for four times.
**errghh***
(4)
Went to Bako National Park for the first time.


People always talk about Bako. Most of the Kuchingites have already been to Bako. And i had finally landed my both feet in Bako during August. Bako park was just nice. Nice. And nice. Clean sea water plus breezy cool wind. Also, I wouldn't going to forget the encounter between me and the fierce tiger-looking
monkey
.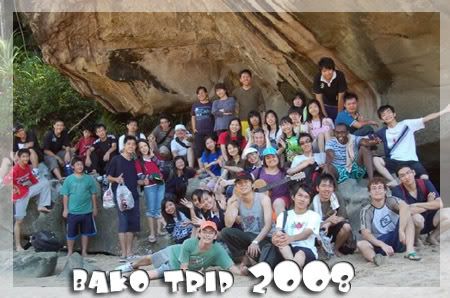 (5)
Appeared in newspaper *again*
I remember clearly of Kuching City Day Parade 2007. Why?
Because
my face was published on the newspaper. Eh, newspaper oh. Should be proud eh.
With my partial face covered with postal color, i don't think many of you could even recognize that skinny little dude, standing in the middle, was actually me. Poor me.
Just one year later 2008, at the same month, my face was posted on the newspaper
again
!
And this round, I got my face clean and shine brightly on the newspaper. Spotted me? =P Let's see whether history will repeats itself in 2009.
(6)
Touched Taib Mahmud's car.
I know this sounds awkward and no big deal to you. But hey ...
... at least i was bold enough to hazard my life to land my finger on Taib's car. Who knows, i might get sniped down by one of his ka-kia during the snapshot. Okay, extravagant.
(7)
Working together with Bro. Torchie and Chris Bee from Hope of God Brisbane.
I have been serving in the worship team almost 5 years. Surely, it is and will always be a great experience for me. During May, i was given an opportunity to serve in drumming with two brothers from Hope Brisbane.
Incredible cooperation and experience for me though.
The team.
It was a joy for me to be able to work with different worship leaders and teams. I am looking forward to work and serve with other Hope centres' worship teams in the coming months and years.

(8)
Was voted as Swinburne Prom King 2008


Gosshh..... who could have anticipated for this to happen? Who could have predicted that
the man
was me? No one. But what to do, fairy tale has come to reality lo.
You, yes you, just got to swallow this fact down to your throat. LOL. Ok ok. Be serious, Johnson.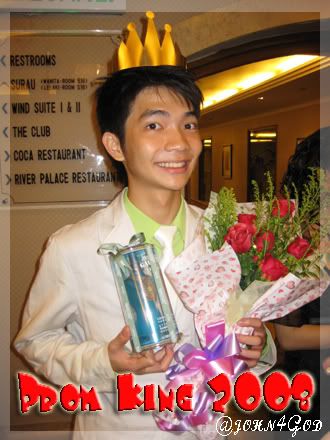 It was absolutely an honor for me to scoop this title through my friends' votes. Thanks peeps. Don't worry, i will be a good hearted prom king of Swinburne. I will behave properly. LOL

(9)
Got another BIG splash on my face during my 20th birthday bash.


Yieng, better be extra careful on your next birthday yea. *evil laugh*
What makes it more meaningful was when i have my baboons from Swinburne celebrating my 20th birthday bash together with me. Regardless of how hard and inconvenience it was for them to actually come out and gather as one, they still make the effort and sacrifice their time.

I do appreciate you guys heaps. I thank God for you! Some of them will be leaving Kuching this year. I am gonna cherished this group photo.

(10)
Serve as a drummer boy in 13th Malaysian National Convention.
On the last month of 2008. As mentioned before, this is the one thing that i have always hoping to involve myself in. And with His timing, His way, i was trained up both in skill and spiritually to prepare myself along the years. To be exact, it was 5 years.

Woot! These ten points have basically wrapped up my greatest and memorable encounters in 2008.
Indeed, i have grown much in 2008. I have made a lots of mistakes, and i learned from every single one of them. I have failed in my character, and i improved from it. I have flunked in achieving some of my visions and goals, and i evaluated on my blunder.
For those whom i have hurt badly through my action, speech etc,
please
show some mercy and forgive me....Johnson is still under construction. *grin*
And so, 2008 is now a history. Turn to the next page, 2009.
~*~*~*~*~*~*~*~*~*~*~*~*~*~*~*~*~*~*~*~*~*~*~*~*~*~

Just yesterday, 3rd of January, there was a great earthquake in MBKS Sports Stadium. You just couldn't believe what have happened inside of the hall. 60 youths, with unlimited strength, doing crazy games!

Hellen Keller once said "
The best thing about teamwork is, you will always have others beside you
". How true it is!
Here's the last part of the War Cry. Watch it! Man, you just gotta see how amazing and
funny
these people are!
My motto for this 2009: "
Live 365 days with J.C in 24/7
". As simple as that. As possible as that.
Chao!
Comments:
Nice banner...nice reflection...nice motto....live it out bro!! Cheers to 2009!! Ganbatte for Jesus!! 21 is your first step into adulthood. It shall be an even more significant year for u bro. GBU!
By

Mr. W, at Tuesday, January 6, 2009 at 12:55:00 AM GMT+8

----------------------------------------------------------