Wednesday, December 12, 2007
Malaysia National Convention (Hope Games)
Short-talk:

If you are struggling in posting messages in my any chat box, click "Refresh" on the chat box and everything will work fine.

-----------------------------------------------
Four days of great reviving and stimulating gathering. I am so much in tune now and keen to share my impactful experiences. I will divide this subject into several posts such as Hope Games, Hope Stores, Teaching and etc. So get ready for more pictures and words words words!!
In brief,
Malaysia National Convention
is held once a year where Hope Churches around Malaysia will flock together in one place to celebrate the feast. For the three years in a row, we are focusing mainly upon three major mascots.
Ants, Geese
and
Penguin.
This year's mascot which is also the last,
Penguin
with the theme "
My Purpose, Our Destiny
". As you can see it on my blog's header.
First day.
On the first day, we had our Hope Carnival Games at MBKS stadium. Few days before the actual event, heavy rains kept pouring on Kuching. Desperately praying for a fine weather on Games day to prevent loads of troublesomes especially in transportation to occur and yes, He answered.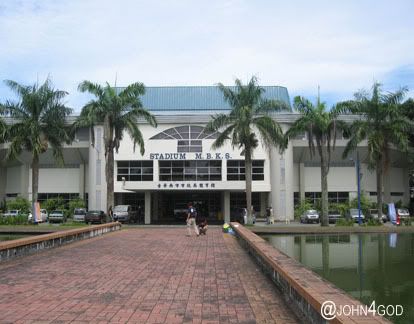 Reached there at 8am to set up and prepare everything, the props , the decorations. Everyone was so keen to start off!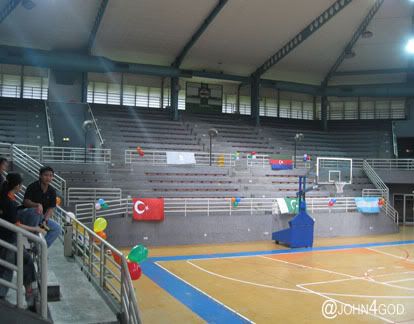 Simple decoration with international flags hanging on the fence.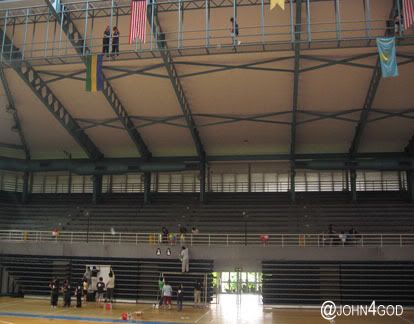 Okay, i would never risk my life to climb up THAT high unstable walkway no matter what. Sickening phobia. Erghh...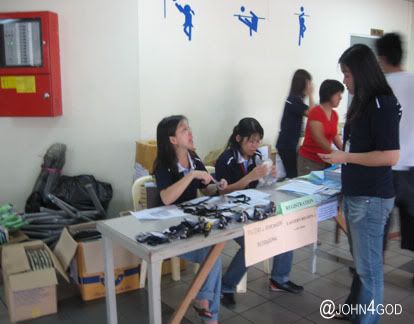 Registration booth

Soon as it reached noon, more and more buses started to arrive.
Delegates!
The unscheduled ushers.
Cheerful hospitality is so important man!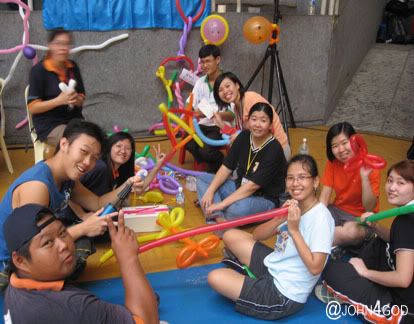 Smile smile!

When the clock hit 1.30pm, there goes the kick-off!

People mountain People sea, huh??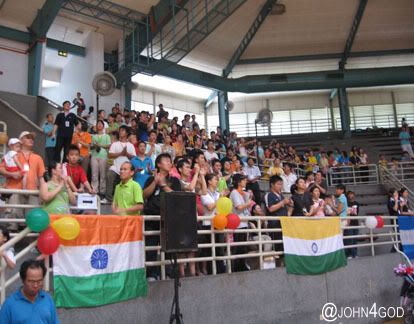 Hip Hip Hooray...!!!
The president of Hope Malaysia.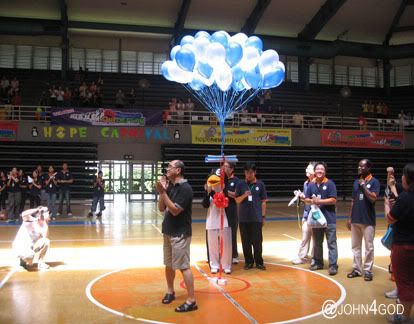 Pastor Simon Eng. Waiting to unleash the ribbon.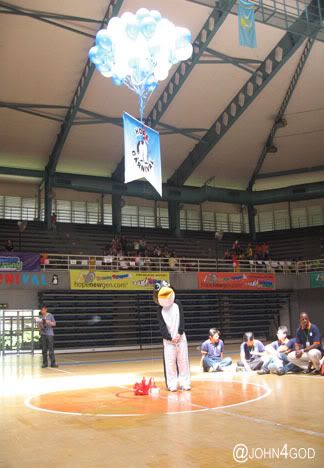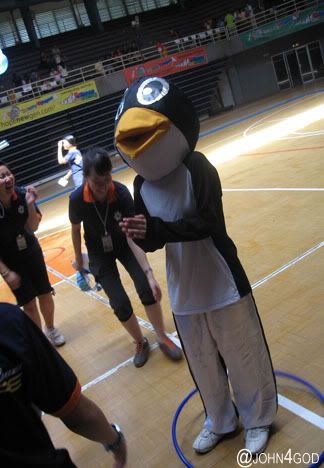 Penguin ohh penguin...comel-nya
Games were divided into 3 sections: Happy Feet for Kids, Dancing Feet for Youths and Sliding Feet for LL, don't ask me what is LL arr. With these, various homogeneous groups will be able to participate in their respective grouping.
And of cause, i was in charge of the Dancing Feet category Laaaaa...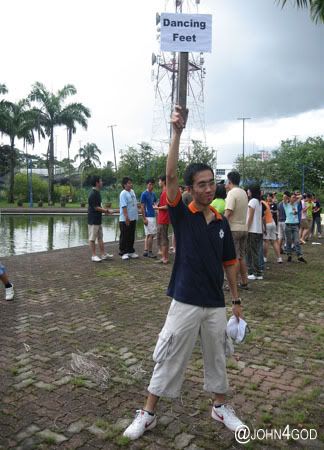 Kuching's version of Statue of liberty. You know him, don't you? Ada pose lagi~
Explaining ... talk talk talk talk..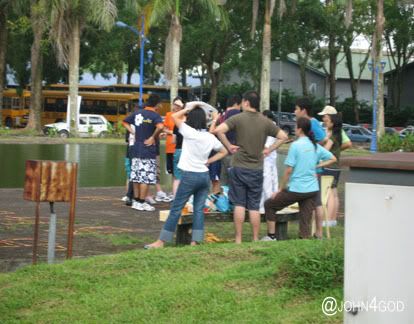 My game was kinda as easy as a kacang and that's why it's called the Peanut game! Each member has to use a pair of chopsticks and grab as many peanuts as they can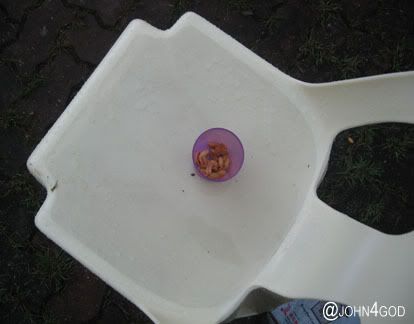 and transfer it to the other end of the side. And drop it in the empty cup.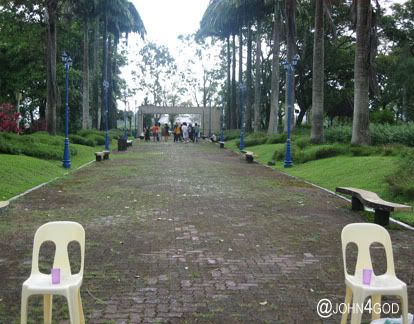 Easy le? HOWEVER, not as kacang as they thought it was, i requested them to pair up with another partner and carry their partner to do so.. **evil laugh**
Move move move!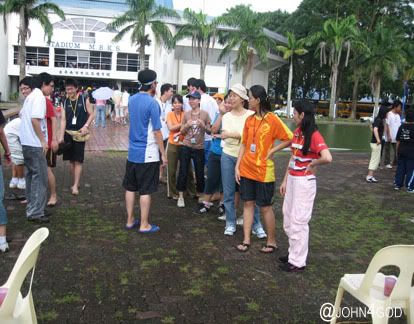 Carry carry
Go go go ... the Piggyback style.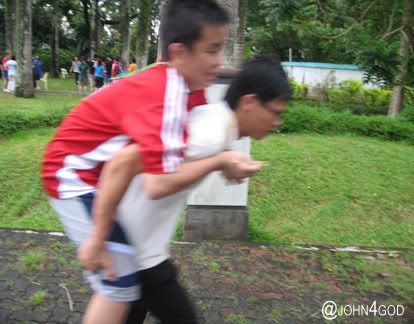 Jangan ter-pa-lang-tin!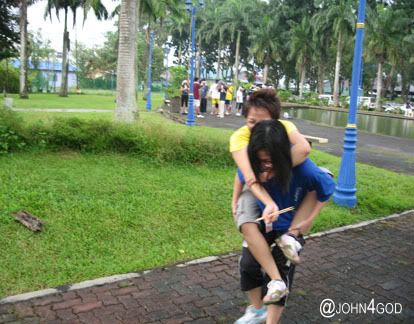 Notwithstanding, some guys were too paiseh for piggyback-ing .. so they chose to do it this way.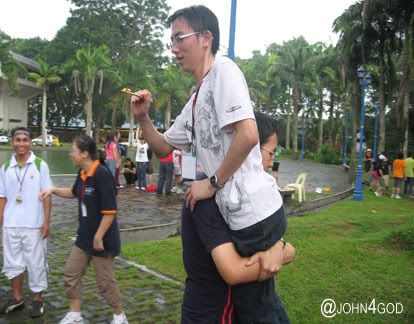 **I hug you tight tight..**


So joyful to be carried???



##Tada##
Peace!
Never ever mess aroundwith me.. or i will peanut-ing you... wuahaha



Other games station.
I should call this The-Disgusting-Yucky-Grossssss Fear Factor.

Team members were assigned to hold one or two worm and somehow somwhere transport it to (i duno where).
**Imagine if those worms dancing on your hands, or biting your flesh!** Arrrr.........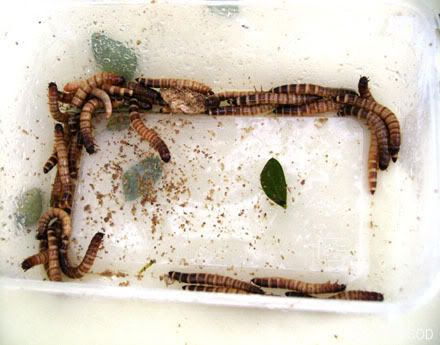 Meal time! Yummy!
Let me evolve those worms into something more expensive.....
The fake goldfish!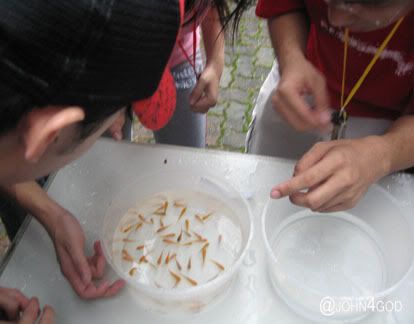 Counting how many fishes in that container.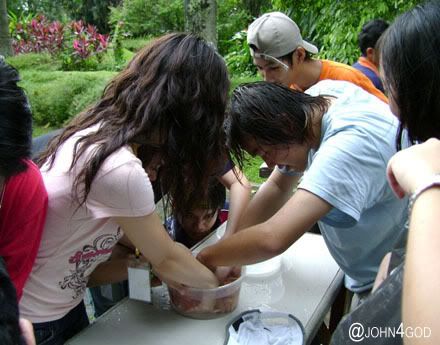 I have no idea what were they doing, seems like they were ENJOYING squashing all those goldfish eh..


Other games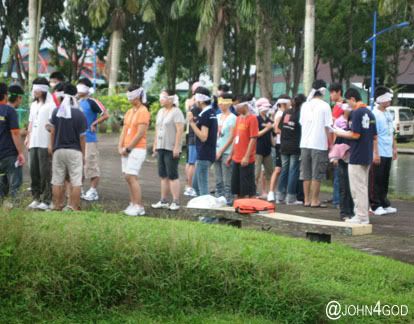 Blindfold.
1...2...3.... Throw!!
Ahhh Cha!!
More games ...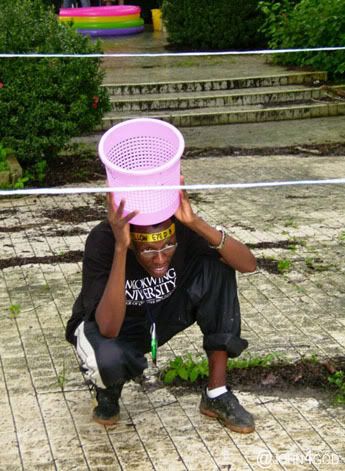 **Hunch Down** Throw into here!!

Handcuff.


And as the sky became cloudy and dark ... the games ended too.
Back to the hall
Exhausting afternoon indeed, yet everyone enjoyed themselves. Packed up and get ready for the workshops and exciting programmes ahead!


And let this post ends with this last snapshot...
**Scream** Arrrrrrrrrr.................Snake!!!
to be continued ...
Comments:
Yee....how come my pics become ur copyright liaw? Haha...must sue u liaw...whaha...good good....keep the MNC posts coming in....couldn't wait....this MNC seems to have passed by so quickly....wah.....really need time to digest.....but everyone, let's move on and fulfilled His destiny together....GAMBATEH!! GBU!!
By

Mr. W, at Wednesday, December 12, 2007 at 10:34:00 AM GMT+8

----------------------------------------------------------

Yoyo~ The convention was superb! The Hope carnival was terrific and I'm really really glad I joined! haha.. The worm-carrying game was especially gross..
I missed the water balloon throwing game! ArgghHHHH!!!
Really thank God for the hearts of the bunch of youthful college+secondary group in welcoming the delegates from diff parts of Msia! Truly blessed by this convention =)

By

brenbrenda, at Wednesday, December 12, 2007 at 2:20:00 PM GMT+8

----------------------------------------------------------

where is my penguin??? i dont see penguins... EH EH... i saw one... but its not a penguin... I WANT MY PENGUINS!!!!! MANA???? eeee... i want those cute cute penguins... *sulks*

lol... those worms can be eaten le. i think so la... goreng it and can eat... mwahahhaa...

By

Berberboo, at Wednesday, December 12, 2007 at 3:09:00 PM GMT+8

----------------------------------------------------------