Wednesday, December 26, 2007
Christmas Celebration in Kuching
Short-talk:

Two Christmas movies that i watched yesterday,
The Christmas Shoes
and
The Christmas Visitor.
Fantastic movies! You must watch!
---------------------------------------------
It was Christmas Eve and I had my chatty dinner with my baboons at Albert & Michelle. Everything well cause it has been long time since i last touches steak. **Fish and Chips** Slurping.. After makan-ing, we were planning to go to Boulevard. Since it was officially named as Kuching's largest mall. **think think** and we decided to switch our plan to Travillion since there's a humongous Christmas tree standing right there.
Ever wonder how Kuchingites celebrates Christmas?
I couldn't reckon on another place in Kuching that has a giant Christmas tree. Plus, it is really out of the ordinary to spot on a Christmas tree in Kuching.
Travillion
Nice nice nice. The burning shiny tree.

The MC, together with Santa Claus tried to entertain the crowd.
The crowd
Seemingly, the response from the crowd was kinda dispirited. Not till when the MC invited those little ones to collect their gifts from Santa Claus, and the reaction from the public suddenly changed ...
**boom** Even adults also move to the stage to receive gifts~~. **Speechless**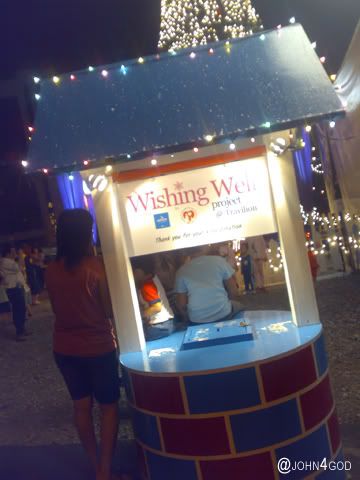 Okay, this is the thing that i want to emphasize on. Something that is so distracting and weird.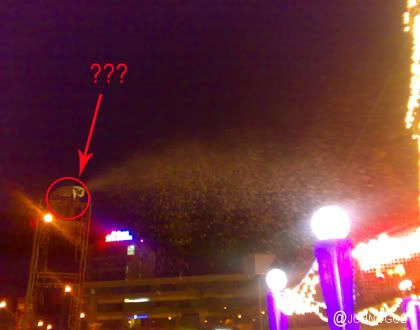 From far, it looks like a machine spurted out snow ice into the air. Looks cool yea. However ..
Walking closer and touching
it
,
i then realized that it was actually shampoo bubbles flying around, instead of having real ice. Swt... Few bubbles went into my eyes, and my eyes were so sakit ...
At least, we improved our celebration here ...
Comments:
hohoho....what a nice christmas that u ppl have...
Merry Christmas....
By

Tiong yienG, at Wednesday, December 26, 2007 at 9:18:00 PM GMT+8

----------------------------------------------------------

cannot say it's shampoo.. it could be any body shower gel..

By

Eric, at Thursday, December 27, 2007 at 1:11:00 AM GMT+8

----------------------------------------------------------

tiong yieng: and you are back! haha..

eric: Who knows it might be Johnson's baby shampoo Ph 5.5 .. haha

By

Johnson, at Thursday, December 27, 2007 at 2:31:00 AM GMT+8

----------------------------------------------------------

U guys were getting a shower over there? Hahaha...yucks...all sticky if u get near to that la, won't u? Haha...I tot of going there..drove past and saw ppl mountain ppl sea so I went to Boulevard instead...hahaha...and got a perfect carpark just beside the main entrance of the hypermarket..hehe...anyway, have a great new year ahead!! Happy 2008!! GBU!! :D

By

Mr. W, at Friday, December 28, 2007 at 11:42:00 AM GMT+8

----------------------------------------------------------

thank God i din go when they sprinkle shampoo or body shower gel! Hahah...

By

kiasing, at Friday, December 28, 2007 at 12:05:00 PM GMT+8

----------------------------------------------------------

mr.W: haha.. im used to the shampoo l. cas im johnson baby shampoo.. okay.. lame.. I have been to Boulevard twice liaw, only 60% of he shops are opened. Why Kuching ppl so sakai de eh..

Kiasing: welcome!

By

Johnson, at Friday, December 28, 2007 at 4:31:00 PM GMT+8

----------------------------------------------------------